F1 teams prepared for overtaking talks
Formula 1 teams may need to step in and address the issue of overtaking if the racing does not improve soon, claim bosses.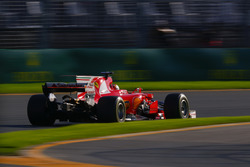 While F1's 2017 rule changes have delivered in terms of producing faster and more exciting cars, there remain concerns that passing is now too difficult – especially after just a handful of proper overtakes at the Australian Grand Prix.
Mercedes motorsport boss Toto Wolff believes that F1's new rules, allied to new ideas coming from Liberty Media, has left the sport in good stead but admits the overtaking issue may need discussing.
"I think it's in an interesting place," Wolff told Motorsport.com about F1. "No stone is being left unturned.
"We have an exciting car concept now, with the only question man remaining on overtaking.
"We'll see how that goes over the next couple of races and if it needs adjustment I think we'll all be open to discuss, but generally I think it's in an interesting place."
Renault F1 managing director Cyril Abiteboul says he is particularly concerned about the overtaking situation, and believes teams may need to get together to work out a better car concept.
"I still believe that overtaking is part of the sport, so a faster car should be able to overtake, otherwise you don't understand what is happening," he said.
"Then, frankly, everything will happen in the pits, the tyres will be very hard, we will be on a one-stop strategy.
"I don't want to be depressed about it, but it is a new F1, that is offering challenges for everyone. we have to see how we can make up for it – and maybe we haven't done that as a team and maybe as a sport.
"Maybe as a sport we need to understand how to optimise the format that we have in the car."
Red Bull boss Christian Horner wants to hold back on the overtaking issue for now, but thinks there are other positives to take from the racing.
"I think we have to reserve judgement [on overtaking] after two or three races," he said. "Historically there's never been a lot of overtaking [in Australia].
"Let's wait for China and Bahrain, which are two of the more easier circuits to overtake at before drawing any judgement.
"I think the positive was the drivers were pushing all the race. There wasn't a lot of fuel saving going on and not a lot of tyre saving going on. That was a positive, I think."
F1 teams prepared for overtaking talks