Team Lotus press release
Heikki Kovalainen, Car 20 - Chassis T128-04:


"For me that was probably my best qualifying lap of the season. Next to Hungary, I think I got as much as I possibly could out of the car and nailed every sector, so it's a good feeling to know when you've wrung as much as you can from a single lap.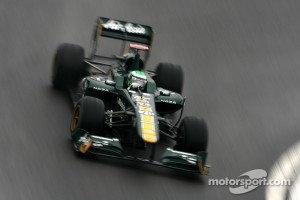 Heikki Kovalainen, Team Lotus
We worked hard last night and today to find a balance that would suit the dry conditions today and tomorrow, and I think we've done that, so I'm feeling pretty good about the race. It'll be very interesting to see how the tyre strategies play out, and if we can keep up the pace from Suzuka we'll be there or thereabouts."
Jarno Trulli, Car 21 - Chassis T128-03:


"I think we did ok today, but there was definitely a bit more in the car. This morning I had a really good setup and found a lot of grip, but this afternoon it just didn't feel quite the same so I wasn't able to get as much out of the car as I could. Still, I'm reasonably happy with where we are - we're well ahead of the cars behind and close enough on race pace to a couple of the teams just ahead, so another good start tomorrow and we'll be ok."
Jarno Trulli, Team Lotus
Thierry Salvi, Renault Sport F1 Support Leader:


"As yesterday's weather limited most of the meaningful running we could do to prepare for qualifying and the race it was important we had a solid FP3 and could fine tune the engine maps to give the drivers the top speed, traction and driveability they need around this track. I think we have achieved what we set out to, and the feedback from both drivers has been good, especially on Heikki's car, so I think we can look forward to the race where we know our pace gives us a chance to fight with some of the teams just in front."
Tomorrow's race will be dominated by tyre degradation levels
Mike Gascoyne, Chief Technical Officer:


"Today was a reasonably satisfying qualifying session for us. Jarno was struggling this afternoon with the grip levels on his car, but I still think he found as much as he could from his car, and Heikki put in a couple of decent laps on both runs to finish just ahead. Tomorrow's race will be dominated by tyre degradation levels and in similar situations this season our speed in the race has given us the chance to race with a pack of cars ahead, so I think we will be able to fight in the race tomorrow and repeat our performance in Suzuka."
Riad Asmat, Group CEO:


"That was pretty good, considering how little time we have had on track in the dry. The team worked very well last night and in FP3 to find a couple of setup options to give the drivers something they could really push with, and I think Heikki's lap in particular showed that we made the right choices. Now we look forward to tomorrow where the objective is the same as it has been all season - make sure both cars run without any issues and edge ever closer to securing tenth place this season."