Team Lotus press release
Team Lotus has today confirmed that Steve Nielsen will be joining the Anglo / Malaysian team as Sporting Director from December 12th 2011, replacing Dieter Gass who is moving on after playing an integral role in helping Team Lotus establish itself as a viable contender for long-term success in Formula One in its first two years.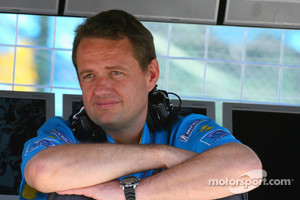 Steve Nielsen
Steve Nielsen is one of the most respected people in Formula One, having worked his way up through the ranks in a number of teams including Team Lotus, Tyrrell, Benetton and Arrows. In 2000 he rejoined Benetton as Sporting Manager and has led the race team through to its current incarnation as Renault ever since.
Mike Gascoyne, Team Lotus Chief Technical Officer, commenting on Steve's appointment, said: "Firstly we are obviously sorry to say goodbye at the end of the season to Dieter Gass who was instrumental in helping us put our first car on the grid in 2010 and for bringing the team to such a high level in record time. He is returning to Germany and he goes with our thanks and with our wishes for every success in the future for him and his young family.
It is excellent news for the team that Steve has accepted the offer to join us
"It is excellent news for the team that Steve has accepted the offer to join us as Sporting Director. I have worked with him extensively in the past at both Tyrrell and Renault where we played our parts in helping to build championship-winning teams, which is what we are aiming to do with Team Lotus. I am sure he will integrate very quickly into our operation and will be made very welcome by everyone in Hingham and Malaysia.
We have also had some more very good news with the confirmation that our Team Manager Graham Watson has signed a new contract after having played a vital role in the factory and the race team since the early days of Team Lotus. This gives us a trackside team with experience, vision and strength in depth and I am sure both Steve and Graham will help us keep pushing forward as we make our challenge for long-term honours."
There are more announcements to come over the next few weeks
Tony Fernandes, Team Principal: "I first met Steve in Singapore 2010 and offered him a job then which he turned down, so I am delighted he has finally taken up the chance to join us. It is a good mark of our team that we can attract people of Steve's calibre and I am thrilled that someone who is so well respected, and is coming from a team that is ahead of us in so many ways, shares our belief in our ability to grow and, in due course, challenge the midfield.
I am also very pleased that we have been able to agree a new contract with Graham Watson as he has been one of the core pillars of our team, and has had a direct influence on our growth, both on and off track. There are more announcements to come over the next few weeks which will all help us achieve our long-term goals, and today's news about Steve and Graham is another step forward for the whole team."