Sauber press release
From Monza to Singapore means even more than the difference between day and night. Opposite to what was needed for the Italian high speed track, the spectacular city circuit at the Marina Bay of the Asian metropolis requires a car configuration which secures a lot of downforce for the 23 corners. The circuit doesn't forgive any driver errors, and the floodlit race on September 25th takes maximum concentration. The Sauber F1 Team and its drivers, Kamui Kobayashi and Sergio Pérez, have put the disappointment of the gearbox failures in Monza behind them and want to improve their tally of points during the following rounds in Asia.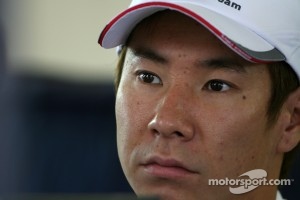 Kamui Kobayashi, Sauber F1 Team
Kamui Kobayashi (car number 16):


"Last year we were quite competitive in Singapore. I made it into Q3, which is a nice memory - very different, of course, to the outcome of the race when I was lying ninth, but made a mistake when the tyres were quite worn and crashed. After the European races I'm now looking forward to going to Asia. Singapore has a very special atmosphere, because it is in the city and it is at night. Night racing I must say gives me an extra motivation, and I really enjoy it a lot. I went to Tokyo after the Italian Grand Prix. It is not too far from Singapore and in Tokyo I will make sure I prepare myself to the working hours we have to adopt by going to sleep late and getting up late. The Singapore circuit has many corners, they are all quite similar and all very tricky as well. All in all I'm confident for the weekend, and I really want to achieve a good result because it is the last race before my home grand prix in Suzuka, and good results always give you extra motivation and make you stronger."
Sergio Perez, Sauber F1 Team
Sergio Pérez (car number 17):


"I believe the Singapore city circuit could be a good one for us. Actually I have not raced there yet, but I did a lot of work in the simulator and, knowing our car, I really hope we can have a positive weekend there. We obviously need to score points to get back our sixth position in the World Championship. I have done some night racing in Qatar when I was in GP2. It is a very special feeling if you live at night and it can also be fun. I will arrive from Zurich, which means I come from the European time zone and then for the night race you actually just stick to that and don't go onto local time. Regarding the city of Singapore, I only had a quick look around during a stop-over, so I can't say much about it as this was only a few hours. This time I will make sure I come early enough to discover a bit more about it."
It's a long and windy high downforce street circuit
James Key, Technical Director:


"Following Spa-Francorchamps and Monza, which are unique circuits, we go to another unique track in Singapore. It's a long and windy high downforce street circuit, which is typically quite bumpy. It needs good mechanical grip. Traction levels and braking stability are important as well. It's a hard circuit for the brakes. We'll be running a high downforce configuration, and we will be working on the mechanical grip. Pirelli will supply the soft and super soft tyres, the same as in Hungary, and we feel these are generally better tyres for us than what we have had at the last two events.
We'll be looking closely at the balance of the car and its ability to absorb the kerbs and the bumps. We tested some new engine maps in Monza for the first time, and we will develop these further in Singapore. Even with DRS, overtaking will be difficult on this track, so qualifying positions and strategy are going to be important. Last year Kamui was able to make it into Q3. Obviously we are keen to bounce back after the disappointment of not scoring the points we thought were certain in Monza."