Renault Sport press release
After two superquick 'power tracks' where top speed was crucial and a high percentage of the lap spent at full throttle, the FIA Formula One World Championship shifts down tempo to the streets of the Marina Bay and the Singapore Grand Prix. With an average speed of just 168kph, engine maps are designed to target driveability through the lower revs. Since Singapore requires a high downforce set-up Renault Sport F1 will also work to optimise the use of off throttle exhaust gases to help its chassis partners maximise aerodynamic grip throughout the lap. Singapore Grand Prix facts and figures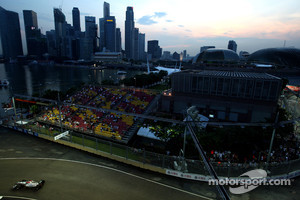 Night race at Singapore
• Singapore's Marina Bay circuit has 23 corners, only Valencia has more on the F1 calendar. Of those 23 corners, 10 are taken in second or first, 7 in third and only 1 is taken in fourth gear, which means that the engine is working at between 8,000rpm and 13,000rpm for the majority of the corners. Corners 3, 8, 13 and 14 are particularly indicative of this low rev, low speed track. As a result, the focus is on creating maps that allow the engine to be very driveable into and out of corners.

• Selecting correct gear ratios is also key in Singapore, particularly second gear, which is used for nearly half the corners on the track. A maximum of 30 gear ratios are selected before the start of season and the teams will select the most appropriate for Singapore from this pre-selection.

• With only two real long straights, the pit straight and then the curved straight between turns five and seven, seventh gear will only be engaged three times per lap. This means the engine has little time to 'cool down.'

• While temperatures during the night are typically lower than during the day (between 5 and 6°C colder), the relative humidity varies very little and can be over 90%, even without rain. Renault Sport F1 can recreate the climatic conditions in one of its dynos back at Viry-Châtillon, including running with 100% relative humidity and 40°C heat, which means that it can accurately simulate what the engine will go through on track.

• Only 46% of the lap is spent at full throttle in Singapore. Last year the highest speed peaked at just 295kph, between turns 5 and 7, but this year with the DRS it's expected to be as high as 305kph. The average speed is however just 168kph as opposed to Monza's 250kph. There are also 82 gear changes per lap as opposed to just 52 in Monaco and just 44 in Monza.

• With lots of corners, low speed and high downforce, fuel consumption per km is one of the highest of the year. Getting the right balance of an ample fuel load to finish the race (taking into account the increased risk of safety cars and any weather changes) without running out of fuel at the end of the race is a huge challenge so Renault Sport F1 will be working on their calculations right until the pit lane opens.

Vitaly Petrov, Lotus Renault GP
The drivers' view:

Vitaly Petrov, Lotus Renault GP


Singapore is a completely different track to the last two we've visited. Top speed isn't so important here; it's more about getting a good set-up and achieving driveability into and out of the corners. The engine needs to be responsive yet smooth through the slow turns as there are so many of them, 23 in total, so feeling comfortable in the car and being able to push is the key to a good lap time. To achieve this, the relationship between the chassis and engine engineers has to be particularly good to get the best potential set-up.
The engineers' view:

Head of Renault Sport F1 track operations Rémi Taffin gives his thoughts on Singapore:


For the first of the 'flyaway' races that end the season we are back to a street circuit and the other end of the power spectrum from Spa and Monza. Singapore's Marina Bay circuit has a low average speed due to the high amount of corners so the emphasis will be on giving the drivers driveability through the lower rev ranges and a responsive engine on the short links between the right angled turns.
Effective use of off-throttle exhaust gases can produce significant advantages
Engine maps need to be created to aid good traction, so this is a race we'll work particularly closely with the chassis engineers to get a neutral set up. With so many slow speed corners, an effective use of off-throttle exhaust gases can produce significant advantages as it allows a steady gas flow to engage the high downforce package, and therefore give increased stability under braking. For each of our partners it is a race of particular importance; for Red Bull Racing, Sebastian could mathematically retain the title here.
Team Lotus will also introduce a new aero package with modifications to the floor, so we will have a big job to make sure that the engine output calibrates with their requirement, while Lotus Renault GP have had a good showing in the recent races that they need to keep going.
We are equally motivated to deliver the same service to each of our partners, even more so at this stage in the season. We are pretty confident that we can deliver round the streets of Singapore; the RS27 has so far performed well on street circuits this year, with Red Bull Racing-Renault securing a win on in Monaco and Valencia, so we're really looking forward to this event.
Did you know?


Engine mapping is always important but efficient use of the blown floor is even more important in Singapore since 95% of the corners are taken in either 1st, 2nd or 3rd gear with revs between 8,000 and 13,000rpm of the permitted 18,000rpm. The noise could be spectacular however as the sound reverberates off the high, tightly packed buildings that enclose the track