Global Motorsport Media
Steve Nielsen, who left Renault in June, has re-emerged at Team Lotus.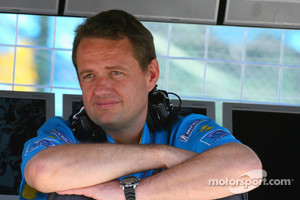 Steve Nielsen
Team boss Tony Fernandes revealed that he offered Nielsen, Renault's long-serving sporting director, the same role at Team Lotus a year ago.
"I first met Steve in Singapore 2010 and offered him a job which he turned down, so I am delighted he has finally taken up the chance to join us," he revealed.
Nielsen, who has worked with Mike Gascoyne at Tyrrell and Renault, will start his new job in December, replacing Dieter Gass who is returning to Germany ahead of Team Lotus' rebirth as Caterham in 2012.
"Off track all the pieces are falling into place and we have now taken full control of our own destiny," said Fernandes. "I think we can guarantee that we have a very bright future."