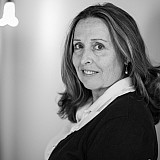 Former Sauber test driver/IndyCar racer is "weighing" options.
Simona De Silvestro announced via Twitter on Wednesday that she was parting ways with her manager Imran Safiulla.
"The Iron Maiden" was enlisted by Sauber in February as test driver. Although it was anticipated that De Silvestro would compete in 2015, Sauber parted ways with the driver last month over contractual issues.
De Silvestro, 26, ran two seasons of Atlantics and four years in IndyCar before returning to Europe.