Giedo van der Garde (in Heikki Kovalainen's car for FP1): "It was another good session for me today and one I want to dedicate to my Grandpa who sadly passed away last week.
I know he's always been very proud of me and he told me to enjoy myself whenever I'm driving, so I made sure I did today.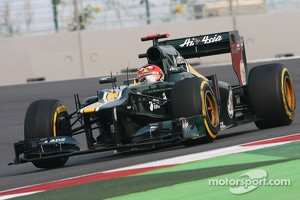 Heikki Kovalainen, Caterham
The circuit is pretty technical but I was up to speed quickly and didn't have any problems getting through the plan we were running today.
One thing that was really obvious was just how much the track evolves - even on my first run I could feel the grip levels improving with every lap, so by Sunday it will probably feel very different, but for me in FP1 it was fine.
"I'll be back in the car again next week in Abu Dhabi at a track I know well, and then I have two full days at the Yas Marina Circuit in the young driver test.
It's good to keep adding to the mileage I've already done this year and I'm really pleased with how much progress I'm making with the car and the team in general."
Heikki Kovalainen, car 20, chassis CT01-#3: "Having sat out FP1 the key for me was getting through as many laps as possible and I'm pleased with what we achieved in FP2.
The balance has been pretty good all afternoon on both tyre compounds - we did have some understeer in the high speed corners on the first run on the soft tyres but we dialled that out for the long run and the car felt good as the grip levels kept improving.
It's good to see clear air between us and the cars behind and maybe we can play with the tyre strategy tomorrow to push closer to the cars ahead - that has to be the aim."
Vitaly Petrov, car 21, chassis CT01-#2: "FP1 went well for me. Even though there wasn't a lot of grip early on the car felt pretty good and we got through a lot of aero work that gives us data to work on tonight.
In FP2 we were again running well but on my second run on the soft tyres it looked like we might have had a problem with the engine so we ended the session a little early to let the Renault Sport F1 guys take a look and make sure we prevented any damage.
Until that point the car had again felt good and we'd found a balance where deg levels on the tyres were very manageable. I think we're in quite good shape for tomorrow and Sunday so hopefully we can have a strong weekend here in India."
Source: Caterham F1 Team