Mercedes investigated the 2017 development front wing once again in Mexico, only this time both drivers had it available for evaluation.
The wing has a novel solution at the point where the mainplane would ordinarily meet with the endplate and footplate.
The concept being investigated by Mercedes sees the mainplane detached, aside from some small metal holders.
This open-ended approach sees vortices generated by the two sections of the mainplane, which will have a marked effect on the vortices being generated either side of it, by the footplate, which has also seen its shape changed to the right and the arched tunnel to its left.
With the width of the tyres increasing for 2017, along with the front wing, the teams will all be interested in changing the proportion of air being washed around the front tyre, especially as other changes around the nose and bargeboards might favour more inwash from the front wing.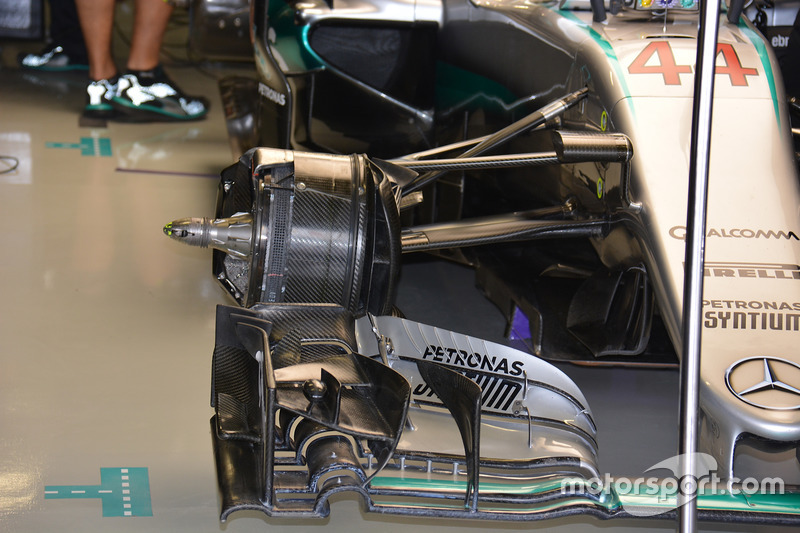 Mercedes AMG F1 W07 Hybrid, front wing
You'll note the difference in the front wing specification in the image above, with the standard configuration mounted on the W07.
Meanwhile, braking requirements have dictated that Mercedes has opened up the brake drum, allowing the heat being generated an escape route out through the wheel face.
Mercedes AMG F1 W07 Hybrid, detail
Another novelty being used by Mercedes, perhaps aimed more at capturing footage of pit stops rather than from a data point of view out on track, is a 360-degree camera mounted astride Rosberg's chassis.