The podium that Ayrton Senna occupies in Brazilians' heart is not a podium for racing drivers, it is a podium for national heroes.
20 years after his death, the Brazilian driver Ayrton Senna da Silva, three times Formula One world champion (1988, 90 and 91), remains one of the most admired and loved racing drivers in the world.
Just as we cannot compare sportsmanship performance among drivers of different eras of Formula One, due to different car technologies, differences in regulations and in the circuits they ran, we also cannot compare the level of popularity each driver reached as worldwide media has expanded its reach over time.
However, if we were to conduct a vote among motorsport fans worldwide in choosing the top driver, we can safely say that Ayrton Senna would have a place on the podium.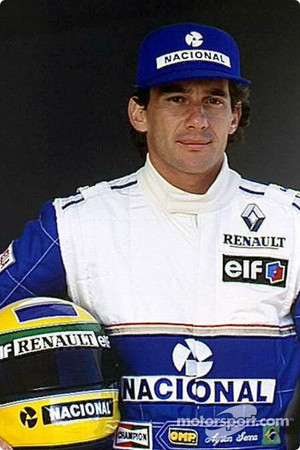 Ayrton Senna
And what about Senna's popularity in Brazil? The country also had two other great Formula One champions in Emerson Fittipaldi and Nelson Piquet. Fittipaldi was, and still is, so popular among Brazilians who, when someone is driving too fast on the road, people would sarcastically say, "driving like Fittipaldi I see?"
Once again, this is not an attempt to compare. The podium that Ayrton Senna occupies in the Brazilians' heart is not a podium for racing drivers, it is a podium for national heroes.
To get an idea of this popularity that no other car racing driver won in his own country, it is enough to say that Ayrton Senna can be remembered by just a theme song. Which other pilot in the history of world motorsport has that distinction? The overwhelming majority of Brazilians with more than 10 years of age, many who didn't even get to see the great victories of Senna on TV, to hear the Tema da Vitória (Theme of Victory) song, will know that it is "Senna's Song".
This theme song was not composed in homage to Senna, his 'possession' was the result of his accomplishments on the track. Originally, Tema da Vitória was composed by Eduardo Souto Neto for the soundtrack of the closures of the Brazilian GP, aired by the powerful Globo Network Television, which owns the rights to transmit Formula One to Brazil. The first time it was played was in 1983 in a race won by Nelson Piquet in Interlagos. Interestingly, the music rocked the victory of Alain Prost at the Brazilian GP in 1984. So, Tema da Vitória was first played to Senna's greatest rival.
Starting in 1986 the Globo network decided that the theme song would only be played with the victory of a Brazilian driver. Since then, Tema da Vitória was played 39 times for Ayrton Senna.
In 2002, after Brazil became five-time World Cup Champions of football (soccer), the song was performed again, in a tribute dedicated to Ayrton Senna. This was Brazil's first greatest sport achievement after Senna's death. Being the passionate fans they are, gallons of tears were dropped throughout Brazil.
Below, see a tribute video with the Tema da Vitória song, or rather 'Senna's Song'.