Arrivabene: Vettel 'a carbon copy of Schumi'
Ferrari team chief upbeat ahead of Barcelona testing this week after solid start in Jerez.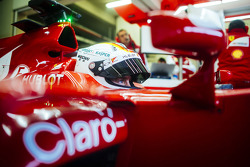 New Ferrari team principal Maurizio Arrivabene has hailed the impact of four-time world champion Sebastian Vettel at Maranello. 
Vettel, who joins from Red Bull this year, has boosted the atmosphere within the Scuderia already, and has provoked echoes of Michael Schumacher's hugely successful period there. 
"I was around in Michael (Schumacher)'s time," Arrivabene told the blog of Ferrari insider Leo Turrini, "and I confess that there are times when I look at Vettel and, in some ways, it really seems like a carbon copy of Schumi!
"There are impressive similarities," he added, "for those who have known both. We all hope that the results are the same as well."
Crucial tests start this week
Ahead of this week's test in Barcelona, where the final running before Melbourne will take place, Arrivabene believes the true form will unfold.
"Obviously the most important test will be the last one," he said. "The simple reason is that it is only then that teams must throw away their masks and show their cards for Melbourne.
"Mercedes was hiding at Jerez, and you must always expect positive surprises from Honda."
He added that not much can be read into Ferrari's chart-topping Jerez pace.
"No one can sell smoke, even if I have worked in tobacco for a living," said the former Marlboro executive.
"I have big dreams but also feet planted in the ground. I say to our fans to believe in the effort we are making, bearing in mind the situation in which we began."
Arrivabene: Vettel 'a carbon copy of Schumi'