Analysis: Why Williams has again struggled with development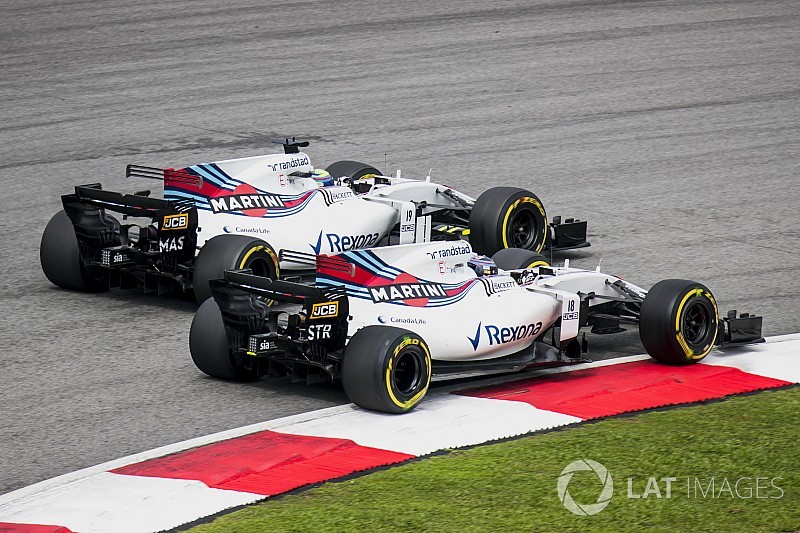 Williams is a favourite to salvage fifth place in the Formula 1 constructors' standings - but it is also clear the team has not had the season it wanted. Adam Cooper looks into the reasons behind a difficult campaign.
With four races to go in 2017, Williams is sat in fifth place in the F1 world championship, which is where the team finished last season.
On the face of it, that's not such a bad outcome, given that this has been the rookie season for teenager Lance Stroll, and that the Grove outfit had to deal with the inevitable disruption caused by the last-minute exit of Valtteri Bottas.
But a closer look reveals that perhaps it's not been such a solid year after all. Whereas in 2016 Williams pushed Force India hard all the way to the end of the season, ultimately losing out by 173 to 138, the Silverstone-based team is currently ahead by a rather huge margin, with 147 points to Williams' 66.
In addition, Toro Rosso is only 14 points behind Williams, and Haas and Renault trail by 23 and 24 points respectively. Fifth place should still be attainable, but it's far from secure as yet.
This is, of course, a transitional year for Williams, in that it's the first season for technical boss Paddy Lowe.
Naturally, the former Mercedes man had to find out how everything worked at the Grove-based team before he could make changes, and those should be paying off next season. Key among them is a new direction for the concept of the car, a bold step for any team to make.
Same car until Monza
That doesn't make 2017 any less frustrating for Felipe Massa in particular, who says that since he's been with the team in 2014, only once has it kept up the development rate that he wanted to see.
"The first year," he says. "Then all of the other years it was the same as now, so no improvement through the year, the way we expected to have. This year the same.
"Now we understand the problems, because last year we didn't understand anything, we just couldn't improve the car through the year like other teams were doing. 2015 was the same.
"This year we started in a good way, and we didn't improve the car like other teams. Now we are catching the other teams, but it's too late.
"I mean, we're still fifth in the championship, we started in front of some other teams that we are fighting… Not too late, but it looks too late, because it looks maybe that we are getting to the end of the season."
Massa is adamant that the new parts that have been coming through the system and making it to the track haven't always done what they were supposed to do.
"We had bits, but they didn't work. We had many bits. The team had to understand why it was not working, change some stuff.
"We still have the same parts, but now things are working much better. From Barcelona to maybe the race before Monza, we had a car that was maybe the same as the beginning of the season.
"We had no improvement in the middle of the season. We had a new rear wing here [Suzuka], new stuff on the brake ducts, new stuff on the floor, and also some ideas that we changed that were better on the car. More related to downforce, for sure."
Lost opportunities
Massa says the situation has improved in the last few races as the team has extracted more performance out of what it has.
"I think we are understanding how to develop the car we have. The job we're doing with the car, in the last maybe month, is definitely what we were supposed to be doing since the beginning of the year.
"It's a little bit late, because we lost many opportunities. Definitely we are making the car more competitive, race by race, in the last month.
"It's a positive sign because you know that you can fight with the teams that you are fighting for the fifth position in the championship. Definitely it's what we want, and we know that we need to make some effort to keep improving the car."
Intriguingly, Lowe contradicts Massa's assertion that new parts haven't always worked - although he acknowledges that perhaps there have not been enough of them coming through.
"We haven't had anything that didn't really work," says Lowe. "We had a bit of a struggle in Austria, if you remember, when we brought in an upgrade there.
"It was fundamentally delivering what was expected in the tunnel, but I think we've had to learn a few lessons around making the best use of that performance, so more set-up and balance and so on.
"So there's no upgrade that we've brought this year that we haven't carried forward. The car is running the latest that we've delivered from the tunnel, and that's been the case all through the year.
"You will observe that we have slipped back in terms of our in-season development relative to some of our competitors, principally Force India, McLaren and Renault, sometimes.
"We have lost ground, but that's not because things didn't work, I think it's because we haven't developed at the rate we should have done, or that they've done."
Sights on 2018
Lowe admits that the change of direction for next year has compromised this season because of the necessity to focus on what can carry over.
Fortunately some items are still relevant, so there is still an opportunity to find some performance before Abu Dhabi.
"Mostly we what we're doing now is directed at 2018, so I don't think we're going to see any substantial shift from that. We've still got a few things coming to races ahead of us, but not substantial stuff.
"We've got into a mode, going back a month or more, that we're only bringing to the car things that are relevant to next year.
"The rear wing being a good example, it's quite a generic type of component. It doesn't mean we'll literally bring this rear wing, but the learning we have from this rear wing feeds straight into the next one.
"All the upgrades we've brought since September have had that characteristic, but I don't think that balance is very different to how it would be normally as a function of the design we intend for next year."
On the driver line-up front, Massa still doesn't know if he will be on board in 2018 – although as time goes by, his chances appear to be receding. However, he's seen enough to be confident that Williams will have the potential to get back on equal terms with its main benchmark, namely Force India.
"For next year, I think so," says the Brazilian. "For this year, forget it. But I think for next year the Williams can be fighting Force India, maybe Renault.
"For sure Renault is a big team, you expect them to grow, McLaren, you expect them to be better. But I think what they're trying to do for next year is a big change in the car. This change would maybe be nice to have two or three years before...
"Anyway, I need to concentrate for this year! Definitely I think maybe the mentality of things that are happening now can be good for the future."
Lowe acknowledges that even if Williams improves, the goalposts are moving. As Massa notes, McLaren will clearly make a step forward next year, and Renault will be in the third season of its rebuilding programme. It won't be any easier to break into the top 10.
"Everyone wants to get into Q3," says Lowe. "That's seen as a mark of some level of respectability on the grid. But I see that space being quite a small box with quite a lot of people trying to compete for it next year.
"Obviously we've got Mercedes, Ferrari and Red Bull who are not going to lose their way, and but then among the rest of us I think Renault, McLaren, Force India and ourselves will probably all be fighting for those places as well.
"And theory there are three others, it's a very competitive sport, but those would be the teams that we would worry about most."