Analysis: What Sainz's move means for the F1 driver market
With the McLaren/Toro Rosso engine swap set to be confirmed in the coming days, along with the move of Carlos Sainz to Renault, more pieces of the F1 driver market are now likely to fall into place.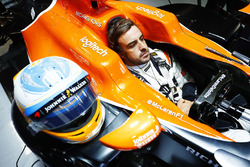 It's clear that even with several unknowns still on the 2018 entry list, teams and drivers alike have their eyes focussed very much on 2019 – when the market really will be opened up.
Sainz's own situation reflects that.
While he has been released as part of the negotiations to get Toro Rosso out of what was a firm 2018 power unit contract, the Spaniard remains part of the Red Bull camp. He has been loaned to Renault for 2018 – and thus the Enstone team and Red Bull Racing are keeping their options open for the longer term.
The appeal of Sainz to Renault is obvious, in that the team gets one of the most promising young drivers of the era in 2018, and seemingly for free.
He will form a potent combination with Nico Hulkenberg, and contribute points as the team strives to move up the leaderboard in its third season with full Renault backing.
Whether the move actually happens before the end of this season, boosting the team's short-term prospects at the expense of Jolyon Palmer, remains to be seen.
For 2019, when Renault will potentially be closer to the front and thus attractive to even the top drivers, the team would still have a free seat.
Sainz may well stay beyond next year, but the other possibility is that he is recalled to Red Bull Racing. 
Daniel Ricciardo is out of contract at the end of 2018, while Max Verstappen is understood to have an option in his 2019 deal that allows him to leave Red Bull should it underperform next season. Both have huge appeal to rival teams.
In theory there could be a seat at Ferrari if the Scuderia finally decides to end its relationship with Kimi Raikkonen, but anyone slotting in there has to be a perfect fit with Sebastian Vettel.
Meanwhile, as things stand, Mercedes has no drivers signed for 2019 – although in the coming weeks Lewis Hamilton and Valtteri Bottas could both extend their contracts into that season, or even beyond.
It's no secret that Verstappen is losing patience with Red Bull, and while Ricciardo may be happier, he too wants a car with which he can win regularly, and on merit, and will be exploring all options. Both will want to know about the team's future engine plans - the possibility is there to join Toro Rosso and switch to Honda in 2019, assuming that progress has been made.
If either Verstappen or Ricciardo leaves Red Bull, then clearly Sainz will slot in for in 2019.
The likely replacement for Sainz at Toro Rosso next season (and possibly this) is Pierre Gasly. Although out of favour for a while, the Frenchman won the GP2 title last year and has done an excellent job in Super Formula in 2017, even winning last weekend, with perfect timing.
Toro Rosso was always intended as a training ground for young drivers, and Gasly won't be in a position to worry about the potential of the Honda engine. Daniil Kvyat, set to stay at STR in 2018, might be a little more concerned.
Alonso's future
With the Renault deal now done, Fernando Alonso can now extend his stay at McLaren. It's understood that he hasn't done so yet – and one could surmise that money is a sticking point, as Honda won't be around to pay the sort of salary he's enjoyed for the past three seasons.
McLaren-Renault has obviously appeal to Alonso, but only if he can be confident that the 2018 car will be as strong as the Red Bull, and capable of challenging for podiums.
The likelihood is that he too will only sign for one season, keeping his options open for 2019 and beyond.
So who would go to McLaren in the unlikely event that Alonso decides not to stay in 2018?
Zak Brown was adamant in Italy that the Woking team has a Plan B in place. In theory it's too early for Lando Norris, but this team has taken gambles on rookies before. But one strong candidate who is still available at the moment is Sergio Perez.
With the Renault door now closed, the Mexican looks set to extend his Force India deal – a process always complicated by the presence of his sponsors – but it's not done yet.
His last stay at McLaren didn't work out, but the team and the management has changed since then, and so has Perez, who now has a vast amount of experience and even more impressive CV than he had in 2013.
Don't expect him to re-sign for Force India until the McLaren opportunity has officially gone. And if even if he does, he's yet another driver who will probably commit only for 2018.
The other potential vacancy is at Williams. While the Grove team is outwardly happy with Felipe Massa, it harbours big ambitions for 2018 and beyond, and it has to be looking for the best possible partner for Lance Stroll – and one who, thanks to the complication of Martini sponsorship, has to be over 25.
Available options are limited. Alonso has been in the frame, but will he really see Williams as a better bet than McLaren, even if he's only thinking short term?
Paul di Resta put himself on the radar in Hungary, and Robert Kubica's name has also cropped up. He would be a great choice, but the problem the Pole faces is that Renault, the team with which he's done all his testing, has opted not to take him – and proving to anyone else that he can still get the job done is not an easy task, given the lack of testing opportunities.
That just leaves Haas, where Romain Grosjean and Kevin Magnussen have been confirmed, and Sauber, where Marcus Ericsson looks set to be joined by Charles Leclerc – although the latter's deal has apparently not yet been done.
Ferrari is keen to place the F2 star there, but it also has Antonio Giovinazzi on its books – and there aren't enough seats to go around.