Analysis: Liberty facing first big test with F1 battle lines drawn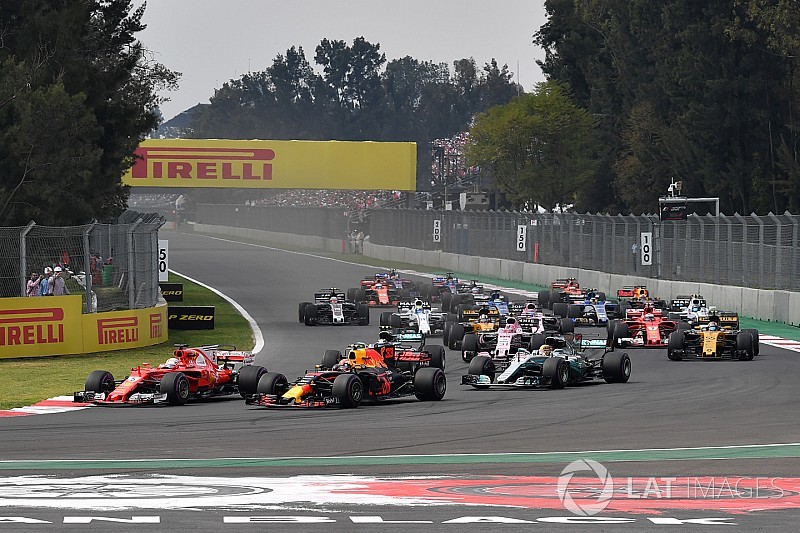 Formula 1's world championship fight may be done and dusted, but just as big a battle is set to be unleashed at the Brazilian Grand Prix, as new owner Liberty Media faces perhaps its biggest test yet.
After a 12 month honeymoon period as teams, fans and media welcomed F1's new commercial bosses and their drive to make the sport bigger and better, it was inevitable that at some point the love-in would have to end.
That moment came last week in the wake of Liberty's joint presentation with the FIA about outline proposals for new engine rules from 2021.
Despite there having been a consultation process with current manufacturers, and potential new entrants, the suggested tweaks to the current 1.6-litre turbo V6 engines did not go down well with everyone.
Mercedes and Renault voiced fears of a new spending war because the changes would force them to design new engines from scratch, while Ferrari was especially upset that a move to more standard parts risked taking away its identity as an engine manufacturer.
Ferrari president Sergio Marchionne later upped the ante in a call to investors when he threatened to take Maranello's ball away if the rules did not suit his team.
"If we change the sandbox to the point it becomes unrecognisable, I don't want to play any more," he said.
Although Ferrari quit threats are nothing new in F1 – for it was a tactic often used by Enzo Ferrari and Luca di Montezemelo to get their own way – the Italian car maker is a very different company in the Marchionne era, and calling time on F1 if it no longer looks like being a profitable business cannot be ruled out.
Against the backdrop of the engine spat, and Ferrari's threats, F1 teams will arrive in Interlagos on Thursday fresh from the second phase of their discussions with Liberty at this week's Strategy Group – focused on future budget caps
Travel plans have meant the leaks from the secret meeting have not yet emerged, and it will be fascinating to see what messaging comes out.
For while even big teams like Mercedes and Ferrari accept that there is a need to reduce costs in F1, there are equally mindful that any dramatic cut back in budget could serve to hurt their own competitive ambitions.
Will there be universal support for the ideas that Liberty put forward? Will there be criticism? Or will F1 really be in a holding pattern until the nitty-gritty discussions about future prize money begin in earnest?
Until teams know exactly what income they are going to get in the future – and Mercedes and Ferrari must be braced for a reduction as the commercial payments are set to be shared out more evenly – it is hard to work out exactly where their expenditure needs to be.
It will be interesting to see too how Liberty itself reacts to the first criticisms of its vision. As Mercedes, Renault and Ferrari grabbed the headlines last week to dominate the news agenda, F1 chairman Chase Carey and allies Ross Brawn and Sean Bratches have been totally silent.
Will they be able to maintain that stance in the packed confines of an F1 paddock – especially one as intense as that at Interlagos – or will they respond to explain why they believe their plans for the future are better?
Ultimately, Liberty has a choice to make.
Does it want to embrace and push for an F1 vision that will delight fans – of a more equitable playing field, where there are many race winners each year and teams like Force India can have a good chance of success? Or does it want to keep the current status quo of appeasing Ferrari because the brand is so strong? It cannot deliver both.
There will be a further spanner in the works for Liberty this weekend too, for coincidentally or not – just as F1's politics heat up again – Bernie Ecclestone is making his return to the paddock.
Having been out of the public spotlight for much of the year as F1's restructure (and even relocation of offices) has taken place without him, it's been noticeable that he has been speaking again, getting involved in the debate and throwing a few curveballs – like suggestions Mercedes helped Ferrari because it needed a respected rival.
As Mercedes boss Toto Wolff said about Ecclestone: "He is the only one who is able to sit on the other side of the world and throw a hand grenade and it actually lands in the paddock.
"These stories are fantastic. I've missed them a little in the past. I've missed the hand grenades, and the pop up meetings and the crisis situation, and the divide and conquer. It is a good story."
Now, we appear back in that very scenario. Paddock opinion is divided, talk about future rules are gathering pace, the news agenda is hungry for intrigue now that the title battle is over, and some Ecclestone mischief is set to be thrown into the mix.
F1 is bracing itself for a fascinating few days in Sao Paulo.