Alonso reveals his latest challenge: Being a fashion label boss
Fernando Alonso's CV reads: Two-time Formula 1 world champion, Indy 500 hopeful and keen cyclist. But now we can add to it fashion label entrepreneur, too.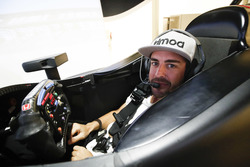 For a man pushing his McLaren Formula 1 team as hard as he can, and about to embark on a huge adventure in the Indianapolis 500, you would think that Alonso's life was already packed full.
But as he has shown many times during his career, Alonso is not someone willing to sit back and be happy with his lot: instead he likes pushing new boundaries, finding different experiences and exploring fresh avenues in his life.
His latest adventure is as a founding investor in fashion lifestyle brand Kimoa, which he has put together with some friends over the past 18 months and which was finally launched a few months ago.
"We have been thinking about this idea with a couple of friends and other investors to create something together," Alonso told Motorsport.com about the venture. "We thought of maybe a restaurant, a chiringuito [beach bar] in Barcelona, or some places close to the beach.
"But then we thought we could do something bigger – we can maybe think about a clothing brand that suits a little bit our lifestyle.
"We started on this idea a couple of years ago to put everything in place, and we actually started it a couple of months ago with our launch online."
If you have paid close attention to Alonso over recent weeks, you cannot have failed to have noticed him wearing his own brand – and that included wearing a Kimoa cap while trying out his IndyCar simulator recently.
Kimoa's designs take inspiration from Alonso's love of the sea – and its name is based on Hawaiian language for those who sit and watch the sunset together.
He added: "I think it is a nice story of many, many years of travelling; many, many years of discovering things, and putting everything together in one brand company: with the values, the message and with a lifestyle that suits most of my wishes.
"I come from the north of Spain, close to the sea, so I was used to be on the beach every morning more or less – on the Atlantic side with big waves.
"So you sit there when you are a child and you see the powerful sea in front of you. When I moved to Switzerland, the thing that I missed the most was the sea – the smell, the feeling, whatever is it.
"So I always thought that my life without the sea would be impossible to imagine. Wherever I will live in the future will be close to the sea.
"So all these things: my friends, the sun, all these things that I saw around the world and the lifestyle in general, that I like, it is about this that Kimoa stands for."
Alonso's decision to help work on his clothing company rather than go down the traditional sports star route of signing an endorsement deal says much about where he is with his life right now – and he cannot hide his own excitement at seeing something he helped create get going.
"I think it is more exciting this way," he said. "But maybe at the beginning of my career not, because you prefer to earn some money and secure a little bit your future.
"But right now I am in a healthy position, so it is way more interesting to share some of the growth and see how a company can be from four people to eight people, to 12 and now 16/17 people working. And they are so enthusiastic about it.
"That has been amazing and hopefully, if this keeps growing, it will be even more amazing. I remember some of the meetings we had one and a half years ago, you explain to them exactly what I am telling you, and some people didn't feel the same way and you never hear anything more.
"But some people, they were not sat in their chair, they were so excited about these things. So now these people are working in the company, working 14 hours a day with no limitation, to keep thinking about new ideas and new products etc. All this enthusiasm is amazing for an idea that you thought was about your own lifestyle or your own taste."
Alonso's delight has also led to him trying something new for Kimoa's first advertising campaign, but what he's done is being kept under wraps for now.
He promises all will be revealed soon.
More details of the Kimoa brand and what it stands for can be found at www.kimoa.com
Be first to get
breaking news
Alonso reveals his latest challenge: Being a fashion label boss