The only issue of the day was some damage to the floor of Paul Di Resta car.
Sahara Force India enjoyed a positive start to the season as Adrian Sutil and Paul Di Resta completed their free practice programmes today in Albert Park.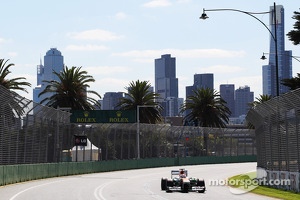 Adrian Sutil, Sahara Force India VJM06
Paul Di Resta (VJM06/04 - FP1: P13 - 1:28.910 - 18 laps / FP2: P12 - 1:28.311 - 37 laps)
Paul: "It wasn't the easiest of days because I had a balance issue with the car in the second session. It looks like I picked up some damage, so it was not easy to gauge exactly where we are.
Given that it's likely to be wet tomorrow, it was crucial to get all the tyre information we needed today. There is a noticeable difference between the two compounds, but it's difficult to say much more until we have been over all the data."
Adrian Sutil (VJM06/03 - FP1: P8 - 1:28.426 - 19 laps / FP2: P9 - 1:27.435 - 35 laps)
Adrian: "It was a very good day and I feel satisfied. The baseline set-up was not too far away from what we needed and the car felt very similar to the way it performed in Barcelona at the final test.
I had a good feeling all day and enjoyed working with my engineers, who I already know very well. The track is obviously evolving and improving, but we got a good feel for the tyres. The main focus tonight is to work on improving the balance on the super-softs."
Jakob Andreasen, Chief Engineer: "A typical day of Friday practice to start the season. The cars are working well and we were able to pick up where we left off in the Barcelona test.
Adrian settled back into the routine seamlessly and worked his way steadily through the programme.
The only issue of the day was some damage to the floor of Paul's car, which we were unable to fix, so that compromised his car's performance this afternoon.
Overall we're well prepared going into the weekend and possibly anticipating some wet weather tomorrow."
Sahara Force India