The Swede John Bryant-Meisner is set to make his debut in the classic event on the streets of the former Portuguese colony.
Following an extensive campaign on the international Formula 3 stage, which has seen him combine a full-time ATS Formula 3 Cup drive with a series of additional outings in British F3 and the FIA Formula 3 European Championship, John Bryant-Meisner now sits on the eve of his final test of 2013: the blue-riband world finale in Macau, China.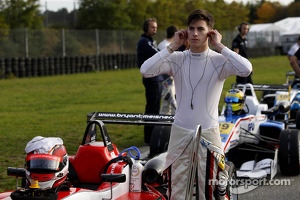 John Bryant-Meisner
The Swede is set to make his debut in the classic event on the streets of the former Portuguese colony, joining a grid which pitches 28 of the planet's most promising single-seater talents against each other in one ultimate battle for glory.
Teaming up with Britons Will Buller and Tom Blomqvist, Brazil's Pipo Derani and Ed Jones of the UAE as part of a five-car assault from British F3 powerhouse Fortec Motorsports, Bryant-Meisner is understandably eager to get action underway – but does not underestimate the challenge that lies ahead.
"I've been looking forward to this weekend for a long time now – I genuinely can't wait to get out on track," says John Bryant-Meisner. "People have been talking about Macau since the end of summer, and the closer we've come, the more I've started to fully understand the magnitude of this race.
The competition will be absolutely fierce, with top names from throughout F3, GP2, GP3 and World Series by Renault – the entry list alone speaks volumes. I've never driven on a street circuit before and Macau is said to be the toughest of them all, so I'm certainly going there in a humble frame of mind.
It's important to stay away from the walls and complete as much uninterrupted running as possible – I'll have that at the back of my mind, but I'll still try to push to the maximum. I've done what I can to prepare, conducting a lot of running in some very authentic simulators with the team in the UK, but I'm obviously well aware that nothing beats reality.
It will be great fun, and the perfect way to end the season!"
With the Macau Grand Prix being a standalone, non-championship event, the weekend structure differs extensively from that of regular in-season F3 rounds. Macau activities get underway with free practice and qualifying on Thursday, with Friday running then mirroring that of the previous day as drivers vie for a competitive slot on Saturday's Qualification Race grid. The outcome of the Qualification Race is then used to determine the starting order for Sunday's all-important 15-lap finale.
Previous winners of the Macau Grand Prix include Ayrton Senna and Michael Schumacher.
John Bryant-Meisner