Get alerts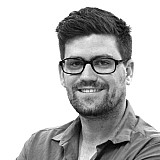 Two-time DTM champion Marco Wittmann says Bathurst is like Spa or Macau after his first test at the famous Australian circuit yesterday.
The German arrived down under late last week for a two-day sprint event and a single-day private test session at the Mount Panorama circuit, ahead of the BMW's first foray into the 12 Hour next February.
Wittmann spent Monday in the #100 BMW Team SRM M6, along with team owner/driver Steve Richards and Supercars star Mark Winterbottom.
The factory-supported team also ran its second M6 with Bathurst legends Tony Longhurst, Mark Skaife, and Russell Ingall, while the customer Marc GT M6 ran with Supercars driver Chaz Mostert, former Bathurst winner Paul Morris, and car owner Morgan Haber.
Wittmann, who this year sealed his second DTM title, dipped into the 2m03s during Monday's test, and was left blown away by the Bathurst circuit.
"The track is great, it is something special for me to be at Bathurst for the first time and also for the first time in Australia," said Wittmann.
"I watched [Bathurst] quite often on the TV the 12 Hour race and before I came here I also played on the Playstation to at least know where to go.
"Having now driven the track, I'd had have to say it's great fun.
"I've raced on a lot of special tracks like the Nurburgring, Spa and Macau, and this is a special track for me. It's tricky and challenging, but that's what a race driver likes. I like it quite a lot."
Wittmann added that the sheer elevation caught him by surprise, while the walls leave little room for error.
"To be honest I did not expect so much up hill and downhill," said Wittmann.
"On the computer games or even on TV it does not look so up and down. It takes quite a bit of time to find a rhythm, especially in the
downhill part which is very tight and quite tricky.
"There is not any room for mistakes. If you overshoot the brake and are too quick in the corner you end up in the wall. It's really tough to find the limit and the extract the potential in each corner.
"I think it was helpful to come here to prepare for both myself and the team."