Subscribe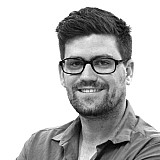 Rene Rast says he came dangerously close to destroying the #75 Jamec Pem Audi while trying to chase down Shane van Gisbergen's pole time in qualifying for the Bathurst 12 Hour.
The battle for pole position essentially boiled down to a battle between van Gisbergen in the #59 Tekno McLaren and Rast in the #75 Jamec Pem Audi, the German constantly trying to respond to van Gisbergen's lightning pace.
At one point it almost cost him dearly, Rast surviving a near-miss across the top of The Mountain during the final part of qualifying.
The moment led to him conceding pole to the Kiwi, and opting to back out and ensure the car is straight, ahead of tomorrow's race.
"That was a scary moment," Rast said. "I don't know the exact corner name, but I was in the corner, I was full-throttle, and then I lost the rear at 230km/h or something.
"I was lucky not to destroy the car. After that I said, 'OK, that's it. I'll stay with P2'."
Even without the moment, Rast admits it was unlikely he would have been able to match van Gisbergen's record-breaking lap.
"I knew my lap-time in Q1 was 2m02.2, I think, and I knew it was already on the limit," he said.
"Still I was trying to improve the lap-time [in the second session], which I did, I improved it by half a second. That was already a big step, but Shane also improved by half a second, so he made the same step.
"After I did that lap, I knew I wasn't going to go five-tenths quicker. I tried another run, but it didn't work because the tyre was gone.
"So I said 'okay, this is it. I'm not trying to destroy the car'."