Black Falcon takes outright win at the 24H Dubai in 2018
Abdulaziz Al Faisal drove the #2 Mercedes-AMG across the finish line after completing 606 laps of the 5.39km Dubai Autodrome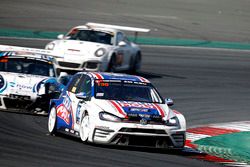 Dubai – The Black Falcon Mercedes-AMG GT3 (#2, Abdulaziz Al Faisal / Hubert Haupt / Yelmer Buurman / Gabriele Piana) has won the 2018 Hankook 24H Dubai, the 13th running of the annual event that, at one point, had looked likely to be won by the sister #3 entry.
Abdulaziz Al Faisal drove the #2 Mercedes-AMG across the finish line after completing 606 laps of the 5.39km Dubai Autodrome. The result continues the event's domination by German manufacturers and cements Buurman, Haupt and Al Faisal as dual winners of the Hankook 24H DUBAI following their first victory together in 2015 with Black Falcon.
"I can't express how happy I am!" explained Al Faisal. "My thanks to my team and my teammates, it's been an amazing job from everyone. I've done this for 11 years now, and finally I've won it for a second time. It was a bit harder this year, the competition has grown, but I'm really happy to be here!"
A6-Pro class
The overall 24H GT and A6-Pro leaders finished just two laps ahead of the Manthey Racing Porsche 991 GT3 R (#12, Otto Klohs / Lars Kern / Mathieu Jaminet / Sven Müller), which replicated the runners-up spot it achieved at the same event 12 months earlier. Incredibly, the GRT Grasser Racing Team Lamborghini Huracán GT3 (#964, Mark Ineichen / Rolf Ineichen / Christian Engelhart / Mirko Bortolotti) finished just five seconds further back, completing the overall top three and A6-Pro podium in the process. The Lamborghini had qualified on the 24H GT pole position, but would fall to the back of the pack in the opening stages thanks to three successive punctures.
A6-Am class
The SPS automotive performance Mercedes-AMG GT3 (#16, Valentin Pierburg / Tim Müller / Lance-David Arnold / Dominik Baumann) was the fastest A6-Am runner in 4th place overall, finishing just one lap ahead of the V8 Racing Chevrolet Corvette C6-ZR1 (#18, Luc Braams / Duncan Huisman / Alex van t'Hoff / Rick Abresch / Finlay Hutchison). The HTP Motorsport Mercedes-AMG GT3 (#25, Alexander Hrachowina / Indy Dontje / Bernd Schneider / Martin Konrad / Brice Bosi) had led the class until its fuel cap worked itself loose, coinciding with gearbox problems, but recovered to complete the A6-Am podium. Reigning Champions of the Continents Herberth Motorsport (#911, Daniel Allemann / Ralf Bohn / Robert Renauer / Alfred Renauer / Dennis Olsen) could do no better than 4th in-class thanks to power steering failure at an event the #911 Porsche 991 GT3 R won outright last year with Formula 1 Toro Rosso driver Brendon Hartley at the wheel.
991-Pro class
In the newly segregated 991-Pro class, the Fach Auto Tech Porsche 991-II Cup (#62, Matt Campbell / Julien Andlauer / Thomas Preining / Jens Richter) took class victory ahead of category polesitters race:pro motorsport (#63, Stanislav Minsky / Murad Sultanov / Klaus Bachler / David Jahn / Nicholas Foster) and Porsche 991-I Cup (#82, Artem Soloviev / Vadim Meshcheriakov / Denis Gromov / Roman Rusinov). The second race:pro motorsport entry (#26, Stephen Grove / Bertram Hornung / Matthias Jeserich / Glenn van Parijs) fared better in 911-Am, taking category honours ahead of the MRS GT-Racing Porsche 991-II Cup (#67, James Thorpe / Sean Mc Inerney / Phil Quaife / Claudio Cappelli). Former 24H Series champions Duel Racing (#95, Ramzi Moutran / Nabil Moutran / Sami Moutran / Jules Westwood) completed the 911-Am podium, two laps further adrift.
After several years away from the 24H Series powered by Hankook, Tsunami R.T. (#37, Andrii Kruglyk / Come Ledogar / Oleksandr Gaidai / Alessio Rovera) made a successful return to the series with its Porsche 991 Cup MR II, pulling a 21-lap gap over the MRS GT-Racing Porsche 991-II (#89, Helmut Rödig / Georg Bernsteiner / Altfrid Heger / Christopher Zöchling) in the process to take SPX category honours. Further back, the category pole sitting Leipert Motorsport Lamborghini Huracán Super Trofeo (#10, Oliver Webb / Lim Keong Wee / Melvin Moh / Aleksander Schjerpen / Tadas Volbikas) secured the final spot on the category podium, just ahead of last year's class winner's GDL Racing Team Middle East.
SP2 class
The VDS Racing Adventures MARC Focus V8 (#58, Raphaël van der Straten / Karim Al Azari / Grégory Paisse / Wolfgang Haugg / José Close) got its SP2 title defence off to a good start with class victory ahead of the CCS Racing KTM X-BOW (#201, Charel Arendt / Holger Baumgartner / Tom Kieffer / Uwe Schmidt) and the Speed Lover Porsche 991-I (#78, Dominique Bastien / Jesus Diez / Carlos Rivas / Bob Wilwert), while the only other KTM X-BOW in the field – that of KTM MMotorsport Australia – suffered mechanical woes that ultimately dropped the #246 X-BOW to 5th in-class in-sight of the chequered flag.
GTs
Phoenix Racing meanwhile secured a provisional GT4 1-2 finish with its pair of brand new Audi R8 LMS GTs, a strong result on the category's 24H Series debut. The #248 entry (Philip Ellis / Joonas Lappalainen / Gosia Rdest / John-Louis Jasper) finished ahead of the #247 R8 LMS GT (Adderly Fong / Marchy Lee / Shaun Wei Fung Thong / Darryl O'Young / Charles Kwan) with both pulling away from BLACK FALCON Team TMD Friction Mercedes-AMG GT R SP-X (#264, Kevin Wing Kin Tse / Jonathan Hui / Antares Au / Frank Yu) throughout the night.
Retirements
The first ever endurance race for the McLaren 570S GT4 would come to an early end when the ALFAB Racing entry (#241, Erik Behrens / Daniel Ros / Fredrik Ros / Anders Lewin) would retire with turbocharger failure. The most high profile retirements of the 24H Series powered by Hankook season opener, however, involved a collision between the Black Falcon Mercedes-AMG GT3 (#3, Khaled Al Qubaisi / Jeroen Bleekemolen / Luca Stolz / Manuel Metzger) and the Mercedes of reigning Teams' and A6 champions Hofor-Racing ) (#1, Michael Kroll / Chantal Kroll / Roland Eggimann / Kenneth Heyer / Christiaan Frankenhout). The Black Falcon Mercedes had led 198 laps until that point and looked set for victory but a collision under braking meant both would retire on the spot.
24H Series
Subscribe and access Motorsport.com with your ad-blocker.
From Formula 1 to MotoGP we report straight from the paddock because we love our sport, just like you. In order to keep delivering our expert journalism, our website uses advertising. Still, we want to give you the opportunity to enjoy an ad-free and tracker-free website and to continue using your adblocker.
Become a subscriber.
Disable your adblocker.