DTM 2018 driver-by-driver season preview
With the start to the 2018 DTM season approaching, David Gruz previews all 20 drivers of the field.
This year marks the end of an era for DTM. Mercedes is leaving, and the remaining Audi and BMW will take on new technical regulations in 2019 as the series adopts 'Class One' rules.
As series boss Gerhard Berger is scrambling to find a third manufacturer to fill the space vacated by Mercedes, the series is set to enjoy one last season of super-close competition among three brands.
Minor changes have been made to the regulations – the cars have been aerodynamically trimmed, and will lose about one third of their downforce.
That, in theory, will make the cars more difficult drive and consequently, driver ability will have bigger importance.
Audi was widely recognised as the team with the best aerodynamic package in recent years, hence why it dominated in 2017, especially when performance weights were scrapped late in the year.
As a result, the reduction in downforce is likely to affect Audi the most, while it is predicted the rule changes will generally bring the three manufacturers closer together.
Mercedes' motivation to put too much effort into this season can be called into question, but the team's six drivers will be as motivated as ever to have a successful season and bow out on a high.
Edoardo Mortara is also involved in Formula E but the other five are out of job at the end of 2018, and they will need to prove themselves to Mercedes in order to be kept for other projects.
BMW meanwhile will attempt to recover from its first season since its 2012 comeback that it failed to win any of DTM's three titles, as well as introduce two exciting rookies to the field.
Audi
 Rene Rast
Team Rosberg / 2nd year / Best position: 1st (2017)
René Rast, Audi Sport Team Rosberg, Audi RS 5 DTM
Photo by: Andreas Beil
Rast's 2017 rookie championship run will go down as one of the most impressive performances in DTM history.
The German claims there is less pressure on him ahead of this season than last year as he is now aware he can cut it in DTM. The question is, how much can he still improve and if he can become a truly dominant force.
Rast already achieved that fate in Porsche Supercup, where he won three titles in a row. While it is a lot more difficult to do the same in DTM, he will likely continue as one of the main protagonists.
 Jamie Green
Team Rosberg / 14th year / Best position: 2nd (2015) / 2017: 3rd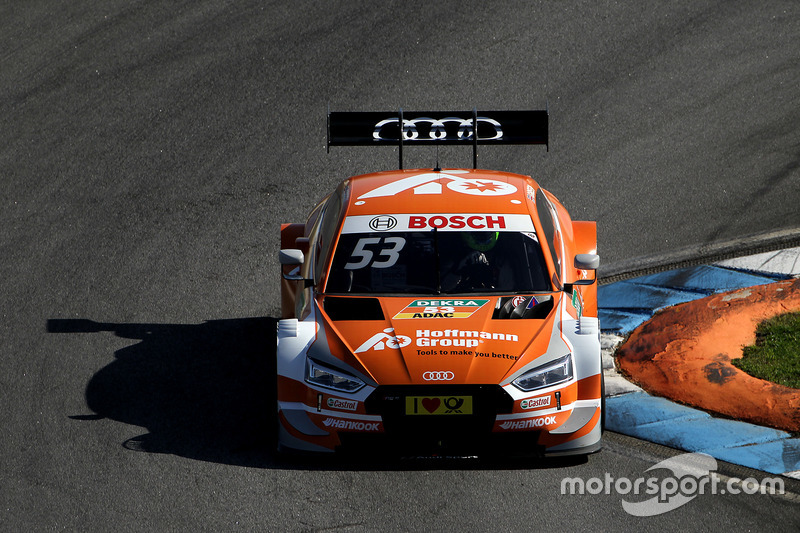 Jamie Green, Audi Sport Team Rosberg, Audi RS 5 DTM
Photo by: Andreas Beil
Not many things stay stagnant in DTM, but Jamie Green being in the top three has never changed in the last three years.
The Briton now is one of the strongest candidates for the 'best DTM driver to never win a title' award and, ending his career without being crowned even once would indeed be a tragedy.
Now 35, and DTM radically changing next year, 2018 could be Green's last great chance to achieve that.
 Mike Rockenfeller
Team Phoenix / 12th year / Best position: 1st (2013) / 2017: 4th
Mike Rockenfeller, Audi Sport Team Phoenix, Audi RS 5 DTM
Photo by: Andreas Beil
Last year, Rockenfeller put his two-year slump behind and delivered one of the most impressive campaigns in the field.
The 2013 champion came back from breaking his leg at the Norisring without missing a race, and managed to stay in the title fight until the season finale.
In the end, he was fourth in both the standings and among the Audis, but Rockenfeller doesn't have to improve a lot to become the brand's main title candidate once again.
 Loic Duval
Team Phoenix / 2nd year / Best position: 20th (2017)
Loic Duval, Audi Sport Team Phoenix, Audi RS 5 DTM
Photo by: Andreas Beil
Loic Duval's rookie season showed that Rast's 2017 heroics are still far from the norm.
Despite Audi having the strongest car, Duval struggled massively and still had by far the poorest campaign, only saved by a somewhat fortunate podium finish at Zandvoort.
Based on pre-season testing, the Frenchman is still missing a bit of pace. Focusing on a secondary programme in LMP2 is unlikely to help him become an established DTM driver.
 Nico Muller
Abt Sportsline / 5th year / Best position: 9th (2016) / 2017: 12th
Nico Müller, Audi Sport Team Abt Sportsline, Audi RS 5 DTM
Photo by: Alexander Trienitz
The only non-rookie Audi driver who wasn't in title contention last year, Muller's rise to become a top DTM driver has stalled a bit.
Instead, he was often at the centre of controversy as Audi used him as a support player for its main drivers, and Muller was indeed accused of holding up rivals on several occasions.
To avoid a similar fate this year, he needs a stronger start to the season and establish himself as the one who has to be helped by others this time.
 Robin Frijns
Abt Sportsline / Rookie / 2017: Blancpain Sprint Cup champion
Robin Frijns, Audi Sport Team Abt Sportsline, Audi RS5 DTM
Photo by: Andreas Beil
Out of DTM's three rookies, Frijns is certainly the most exciting one. Widely regarded as one of the best drivers not to make it to F1 in recent years and also a successful sportscar driver, the Dutchman has been touted as Rast's successor as a potential rookie champion.
Yet, despite ending pre-season testing as fastest Audi, the Dutchman should start the season with more modest aspirations – he doesn't have the same experience Rast had a year ago, and the Dutchman didn't even have the full winter to prepare, as he was called up to replace Mattias Ekstrom only in February.
Still, expect Frijns to impress the same way he did everywhere else he raced before.
Mercedes
 Lucas Auer
4th year / Best position: 6th (2017)
Lucas Auer, Mercedes-AMG Team HWA
Photo by: Alexander Trienitz
Auer started the 2017 season in dominant style - so strongly, in fact, he even started to be in consideration for a Formula 1 role and the Austrian even tested with Force India in July.
However his form quickly faded along with that of his manufacturer, and he had to settle for being the top Mercedes man.
Only 23 and clearly a competitive DTM driver, Auer should be the top target for BMW and Audi to snatch once Mercedes is gone after 2018.
 Gary Paffett
15th year / Best position: Champion (2005) / 2017: 10th 
With Ekstrom retiring, Paffett takes over as the most experienced driver in DTM, but the 37-year-old is likely preparing for his farewell season with the Briton declaring loyalty to Mercedes for the future.
It's been a while since Paffett featured at the sharp end in the DTM standings, he hasn't even won a race since 2013.
Paffett will be motivated to up his game this year so Mercedes includes him in one of its other projects.
 Paul di Resta
9th year / Best position: Champion (2010) / 2017: 11th
Paul Di Resta, Mercedes-AMG Team HWA
Photo by: Andreas Beil
Ever since returning from Formula 1, di Resta hasn't been able to re-establish himself as a DTM star.
The Scotsman only has two wins since 2014, but has had the pace to score a few podiums each year. He'll need to find that speed more consistently if he wants a second DTM title.
 Edoardo Mortara
8th year / Best position: 2nd (2016) / 2017: 14th
Edoardo Mortara, Mercedes-AMG Team HWA, Mercedes-AMG C63 DTM
Photo by: Andreas Beil
Mortara's transition from Audi to Mercedes was anything but smooth last year, which was only the second 'off' year of an otherwise stellar and impressively consistent DTM career.
However, as he now has a place in Formula E with the HWA-aligned Venturi team, Mortara could be another driver to leave DTM without a much-deserved title.
 Pascal Wehrlein
4th year / Best position: Champion (2015) / 2017: 18th in Formula 1
Pascal Wehrlein, Mercedes-AMG Team HWA
Photo by: Alexander Trienitz
The youngest DTM champion ever and a genuinely exciting Formula 1 prospect, seeing Wehrlein return to DTM after only two years is disappointing.
Di Resta didn't have the same form he had in the past when he returned – it will be intriguing to see whether Wehrlein can continue like nothing happened.
He was easily the fastest Mercedes driver in testing, but the German likely had different priorities compared to the more established drivers.
 Daniel Juncadella
5th year / Best position: 16th (2013) / 2017: 6th in Blancpain Endurance Cup, DTM Mercedes test driver
Daniel Juncadella, Black Falcon, Mercedes AMG GT3
Photo by: Jan Brucke/VLN
After failing to leave a mark on DTM during his first four seasons, Juncadella has been given a second chance to prove himself and, having spent last year as a test driver, he'll have an easier time to return to the competition.
The fact the Spaniard's best season was when he was a rookie means he has the potential to do better.
Juncadella already overcame the first hurdle, running in testing untroubled despite breaking his collarbone in training a week before.
BMW
 Marco Wittmann
Team RMG / 6th year / Best position: Champion (2014, 2016) / 2017: 5th
Marco Wittmann, BMW Team RMG, BMW M4 DTM
Photo by: Andreas Beil
Perhaps the strongest DTM driver of the past half-decade, Wittmann is once more expected to lead the BMW charge this year.
Wittmann was the only non-Audi driver to get close to last year's title, and the main reason he didn't win was losing a race victory at Zandvoort for not having enough fuel in his car.
BMW's trust is big in him as he was the only one to drive during the Vallelunga shakedown and looks to be in good form as he was in the top five in the Hockenheim test.
 Timo Glock
Team RMG / 6th year / Best position: 7th (2017)
Timo Glock, BMW Team RMG, BMW M4 DTM
Photo by: Andreas Beil
Glock enjoyed his strongest season in DTM last year, but his overall performance continued to be overshadowed by inconsistent results.
The former F1 driver has managed to win a race in every season except one, but he has never had more than a single victory.
He hasn't had issues with regularly scoring points of late, but he needs to be in victory contention more often if he hopes to take the title.
 Augusto Farfus
Team RMG / 7th year / Best position: 2nd (2013) / 2017: 16th
Augusto Farfus, BMW M4 DTM
Photo by: BMW AG
Last year, Farfus has extended his slump to four years now, as the Brazilian has been struggling to find form ever since he was runner-up in 2013.
He actually endured his worst season yet last time out, as he never scored as few points and, for the first time, he failed to even stand on the podium.
Farfus' position is probably the most vulnerable with the BMW camp currently and, if he has yet another low-key campaign, the temptation to move him across to sportscars full-time could grow.
 Bruno Spengler
Team RBM / 15th season / Best position: 1st (2012) / 2017: 13th
Bruno Spengler, BMW Team RBM, BMW M4 DTM
Photo by: Andreas Beil
Similarly to Farfus, Spengler has also lost some of his competitiveness since 2013.
However, the Canadian at least managed to remind us he was once one of the strongest DTM drivers on a few occasions last year, with a win at the Norisring and podiums at the Hungaroring and Moscow.
But three good results will only take you so far and, with Spengler now at 34, he is running out of time to reestablish himself as a leading driver in the series.
 Joel Eriksson
Team RBM / Rookie / 2017: 2nd in European F3
Joel Eriksson, BMW Team RBM, BMW M4 DTM
Photo by: BMW AG
In one way it is disappointing to see Eriksson in DTM, as the Swede's junior single-seater performance was more than good enough to justify going to Formula 2 and try to make it to Formula 1.
However, BMW signed him as a junior before any F1 teams could, and it rightly rewarded him with a DTM ride after being Lando Norris' closest challenger in F3 last year.
Eriksson has enough talent to one day become a DTM champion but without any sportscar or touring car experience, the 19-year-old will likely need time to do his best with the BMW M4.
 Philipp Eng
Team RBM / Rookie / Last year: 4th in ADAC GT Masters
Philipp Eng, BMW Team RBM, BMW M4 DTM
Photo by: Andreas Beil
Eng might be the least-hyped of the three rookies, but it is the Austrian whose pre-DTM career is closest to that of last year's rookie champion Rast.
Eng was also a Porsche Supercup champion in 2015, and then immediately joined BMW to spend two years in Blancpain GT, ADAC GT Masters, and endurance racing.
While he is unlikely to win the title, he is perhaps the most-prepared rookie this year, and could easily challenge for points from the get-go.
About this article
| | |
| --- | --- |
| Series | DTM |
| Drivers | Bruno Spengler , Augusto Farfus , Gary Paffett , Paul di Resta , Timo Glock , Mike Rockenfeller , Loic Duval , Jamie Green , René Rast , Edoardo Mortara , Philipp Eng , Marco Wittmann , Daniel Juncadella , Robin Frijns , Nico Müller , Pascal Wehrlein , Lucas Auer , Joel Eriksson |
| Teams | Mercedes , Team Abt , Audi Sport Team Rosberg , BMW Team RMG , BMW Team RBM , HWA AG , Phoenix Racing |
| Author | David Gruz |
DTM 2018 driver-by-driver season preview