What does it take to balance a Formula One test seat and a full time DTM career?
Daniel Juncadella has been busy this year.
If you think that chasing a title in the DTM ranks next to the likes of Paul di Resta is a lot to handle, how about testing a Formula One car and signing on with Force India as reserve driver and Friday test driver? And he is only 23.
Handling both series at the same time is easy for the young Spaniard, as he says it opens doors for his racing future.
"It depends a lot on what you want to achieve in the future. If you are a reserve driver for F1, it's not enough. You never know if you will ever get a racing seat, you need to find some other options and drive somewhere else. It's you racing career," he said.
"If I never get the chance to drive in F1, I still have a professional racing series to participate in."
Formula One has moved into a new era showcasing hybrid technology on all its cars. With a test under his best, Juncadella is happy to have seat time in the new cars.
"For me it was a very new experience. When I had the chance to drive the new car it was a wet day," he said.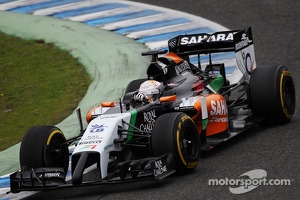 Daniel Juncadella, Sahara Force India F1 VJM07 Test and Reserve Driver
"It was nice to get a first test in a new generations of cars, it's important for new drivers and rookies to get a taste of these cars, because in the future they will want you if you have experience."
Being a part of a Formula One team the scale of Force India and seeing the results the team has had on track is refreshing to Juncadella, especially considering the amount of money other teams put into their programs.
"It shows that they have the right people around."
Juncadella will be putting a lot of focus on his full season gig in DTM. Running a Mercedes, he said he is not aiming for race wins yet, but looking to learn has much as he can.
"I want to show what I learned last year. It's only my second year, I am not focusing on a championships, or race wins right now," said Juncadella.
"I am looking forward to being a team mate with Paul di Resta as he is coming from F1 and is in the peak of his career."
Despite his focus on learning about the car and the racing, he just missed out on his first podium last season at the Norisring, finishing fourth.
He said while he has seen good results at the track, it is certainly not his favorite track to run on.
"Its a race track I like the least, but I got my best results so. I have to be looking forward this year," he concluded.