Audi press release
• Mattias Ekström dominates in the rain at Oschersleben
• Martin Tomczyk in second place after sensational recovery
• Nine-point advantage in the overall standings

Audi, Audi, Audi - only 14 days after the one-two-three triumph in the rain battle at Brands Hatch the brand with the four rings again took the whole podium at a DTM race in similarly difficult conditions. At Oschersleben, Mattias Ekström (Audi Sport Team Abt Sportsline) triumphed in front of leader of the standings Martin Tomczyk (Audi Sport Team Phoenix) and rookie Edoardo Mortara (Audi Sport Team Rosberg).
2nd Martin Tomczyk, Audi Sport Team Phoenix Audi A4 DTM, 1st Mattias Ekström, Audi Sport Team Abt Audi A4 DTM, 3rd Edoardo Mortara, Audi Sport Team Rosberg, Audi A4 DTM
For Audi this marked the 60th victory in total in the most popular international touring car series, the sixth in the current season and an important step toward another DTM title. With a sensational recovery Martin Tomczyk managed to advance to second place after having started from position 14, extending his overall lead by nine points before the last two races. Consequently, the Bavarian driver living in Switzerland will already have the first match ball and chance of securing an early title win for Audi at Valencia (Spain) on October 2.
On the wet track at the Motorsport Arena Tomczyk pushed forward to sixth place right on the starting lap and was subsequently one of the quickest drivers in the field. Nevertheless, he was kept on edge all the way up to the finish. After having been touched by Jamie Green right at the beginning of the race the hood of Tomczyk's car came off on lap 18. "That caused me to completely lose the front aerodynamics," said the leader of the standings. "But we had so much mechanical grip today that it didn't even make such a big difference. Oschersleben was extremely slippery in the rain today. When I saw that one car after the other in front of me was spinning off the track I took it a little easier. That paid off."
No less impressive than Martin Tomczyk's recovery was the victorious drive of Mattias Ekström, who by clinching his second success of the season narrowed his gap to the runner-up in the standings, Bruno Spengler, to ten points. The Swede pushed forward from fourth to second place at the start and only needed eight laps to overtake the Canadian who had been leading up to that point. The two-time DTM Champion then drove one fastest lap after the other and had an advantage of no less than 42 seconds on crossing the finish line. "The car was simply fantastic," said a jubilant Ekström. "I can only say 'thank you' to my engineer and to the team."
Martin Tomczyk, Audi Sport Team Phoenix Audi A4 DTM and Edoardo Mortara, Audi Sport Team Rosberg, Audi A4 DTM
Similar sentiments were expressed by Edoardo Mortara, who mounted the podium for the second time in a row and with a score of 21 points is now ranking in seventh place of the standings in his first DTM season. "I've never driven a car in the rain that has been as good as my A4 today; my engineer did an incredible job," commented the Italian, who shielded Martin Tomczyk against the cars behind him almost throughout the race.
With Mike Rockenfeller on position six and the quickest in qualifying, Miguel Molina, in eighth place two other Audi drivers scored points at Oschersleben. Molina managed a good start. The Spaniard braked into the first turn on the wet track a little too late though. Despite body contact with Timo Scheider he was able to continue his drive and finally scored his overdue first point of the year.
After spinning twice on the starting lap Timo Scheider had started a similar recovery as Martin Tomczyk that caused him to advance to fourth place. After 25 laps though Scheider had to park his A4 DTM because a stone had destroyed the radiator.
After a turbulent race with several incidents Oliver Jarvis in ninth place barely missed scoring a point. In difficult conditions Rahel Frey achieved her so far best DTM result in twelfth place. Filipe Albuquerque was forced to retire after a collision with Ralf Schumacher in which he was not at fault.
"We've seen very spectacular motorsport today," said Head of Audi Motorsport Dr. Wolfgang Ullrich. "Similar to the round at Brands Hatch our A4 DTM was extremely strong in the rain. Mattias (Ekström), Martin (Tomczyk) and Edoardo (Mortara) again drove tremendous races. We're happy about our 60th victory and another fantastic result for Audi."
I think there hasn't been a DTM race won with such a large advantage in a long time
Dr. Wolfgang Ullrich (Head of Audi Motorsport)


"It was an extremely turbulent and a tremendous race. Mattias (Ekström) was incredibly quick. I think there hasn't been a DTM race won with such a large advantage in a long time. Martin (Tomczyk) finished as the runner-up in a car that was damaged during half of the race - a fantastic performance. And Edoardo, too, deserved his place on the podium. In total, it's been an impressive team performance and a strong result for Audi."
Mattias Ekström (Red Bull Audi A4 DTM), 1st place


"I had a fantastic race. Crossing the finish line in the DTM as the winner with a more than 40-second advantage is definitely a world of difference. I didn't even know who came second behind me. I'm very happy that it was Martin (Tomczyk). But I'm even happier that in the team and with Audi Sport we've come up with ways of working together even better and continuing our successful days. Knowing this, it's really fun going into the last two races, and then starting into the winter break."
Martin Tomczyk (Schaeffler Audi A4 DTM), 2nd place


"For me, clearly, the story of the day is the one that happened on the first lap. Recovering eight positions in such difficult conditions and to then even advance to second place is anything but easy. A little luck was involved too. After the poor qualifying session my team and I had a perfect Sunday. We're now leading the championship with a nine-point advantage. That doesn't mean anything except that we'll be tackling the next races the same way we did the last ones: with determination and concentration."
Edoardo Mortara, Audi Sport Team Rosberg Audi A4 DTM
Edoardo Mortara (Playboy Audi A4 DTM), 3rd place


"I've got mixed feelings. It was definitely a fantastic result for me to finish on the podium as a rookie for the second time this season. But I made a lot of mistakes in qualifying and particularly at the start. I still need to improve some more for the next races at Valencia and Hockenheim."
Mike Rockenfeller (E-POSTBRIEF Audi A4 DTM), 6th place


"Due to the many spins, accidents and duels the race was very chaotic. I had a good start but unfortunately was pushed far to the outside in turn two and lost many places in the process. Afterward, I drove my race. Fourth place would have been possible, but advancing from tenth to sixth place, wasn't bad. It could have been worse."
Miguel Molina (Red Bull Audi A4 DTM), 8th place


"My start was good. But in turn one I made a braking mistake, the rear wheels locked and I slipped in a straight line. It was difficult to find my way back into the race. I then made too many mistakes. In the end, one point isn't enough when you've started from pole."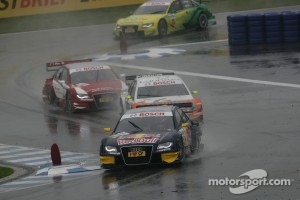 Miguel Molina, Audi Sport Team Abt Junior, Audi A4 DTM
Oliver Jarvis (Audi Sport performance cars A4 DTM), 9th place


"It was a thrilling race for the fans, but for me it was disappointing. I made too many mistakes and damaged the car too heavily. I had the chance for a podium result but finished in ninth place. My sincere congratulations to Audi on the one-two-three win."
Rahel Frey (Glamour Audi A4 DTM), 12th place


"I was a bit cautious at the start. It was raining and there were many accidents on the first few laps. Unfortunately, Maro Engel hit me in the rear so that I flew off into the grass and lost a lot of time. Although my speed in between was pretty good I'm not satisfied."
Timo Scheider (AUTO TEST Audi A4 DTM), retirement


"After a very good start and making up a few places I was hit by a team-mate and spun. Naturally it was frustrating to follow the field from behind. We then managed to advance pretty well and were at times the fastest car in the field. I then had body contact with Gary Paffett, spun once more and moved forward again. Unfortunately a stone must have damaged the radiator so that I was forced to park the car."
Gary Paffett braked too hard; I wasn't able to get out of his way and hit him
Filipe Albuquerque (TV Movie Audi A4 DTM), retirement


"My race ended very early. Gary Paffett braked too hard; I wasn't able to get out of his way and hit him. Afterward, on the straight, I lost the hood and that ended my race."
Hans-Jürgen Abt (Team Director Audi Sport Team Abt Sportsline):


"Today we've seen the true potential of Audi and our team. You could see that we're all fighting for victory and for Martin (Tomczyk). The team did some great pit stops and the strategy was right. This was real teamwork and we can all be proud of it. 'Well done' to everyone who had a part in this, it's been a great day for us."
Ernst Moser (Team Director Audi Sport Team Phoenix):


"It was crucial for the race how Martin (Tomczyk) moved forward on the first few laps. We were quick in the race and got everything right - and we're overjoyed. Now we'll battle to hold onto the nine-point advantage. It's a shame that Rahel (Frey) had an accident with Maro Engel in the beginning and then dropped all the way to the rear."
Arno Zensen (Team Director Audi Sport Team Rosberg):


"It was simply great. Edoardo (Mortara) made a slow start but then did a superb job of pushing forward. It's the second time in a row that we're in third place. My thanks go to the team and to Edo. Three drivers from three different Audi teams in front - that was simply great. Filipe (Albuquerque) had a lot of body contact in the beginning. The car was damaged pretty badly. We say 'sorry' for him having slid into Paffett. But I think it was not his fault."