Jens Marquardt: "May the best man win in Hockenheim – in a fair finale."
Four wins, four podiums and title aspirations right down to the final race: BMW Motorsport can look back on a successful comeback season in the DTM. Speaking in an interview ahead of the season finale in Hockenheim (DE) on 21st October, BMW Motorsport Director Jens Marquardt sums up the year so far and reveals what the BMW teams are out to achieve on the final race weekend of the year.
Even in your wildest dreams you'd have struggled to come up with such impressive results for BMW.
Mr. Marquardt, the 2012 DTM season is drawing to a close. Are you happy with what BMW Motorsport has achieved in the past nine races? "Of course I am absolutely delighted with the way our comeback season has panned out. If anyone had seriously told us before the start of the season we would still be in with a realistic chance of winning the title come the final race of the year, I would have told them they were mad. Prior to the opening race in Hockenheim, our goal was to ensure we were competitive as soon as possible. As it turned out, this was the case very quickly indeed – and we celebrated our first victory in just the second race at the Lausitzring, courtesy of Bruno Spengler. Subsequent successes confirmed this triumph was no flash in the pan."
BMW drivers have stood on the top step of the podium on four occasions … "I doubt very many people would truly have believed we would win four of the first nine races and achieve a total of ten podiums. Even I often catch myself looking at these remarkable statistics with eyes wide open: even in your wildest dreams you'd have struggled to come up with such impressive results for BMW. However, it was not just Bruno Spengler with his three wins or Augusto Farfus with his victory in Valencia who provided us with highlights this year. All our six drivers have been able to produce strong and impressive performances. The newcomers in our contingent have found their feet very quickly and have all picked up points. Reigning DTM champion Martin Tomczyk has also had three podium finishes. That just goes to show what a sensational job BMW Motorsport, the three BMW teams and our drivers have all done. I am unbelievably proud of my team."
Lausitzring race winner Bruno Spengler, BMW Team Schnitzer BMW M3 DTM
What are the chances of us seeing the fourth BMW driver in the history of the DTM crowned champion?
"The 2012 season will already go down in BMW Motorsport history as a huge success. The DTM is a fiercely-competitive series, in which three premium automobile manufacturers go head to head at the highest level. We were new to the series in 2012 and our rivals had far more experience than us. However, we have learned very quickly and, armed with the BMW M3 DTM, found ourselves almost on a par with the opposition from the onset. As such, I see the team as a winner regardless of the outcome of the race in Hockenheim. It is sensational to still be in with a chance of the title going into the final race."
But you do want to win, don't you? "Of course. We have nothing but real racers in our team. Anyone involved in motorsport wants to win races and, ideally, titles. I am just trying to emphasise the fact that we have nothing to lose going into the season finale. We have more than lived up to our expectations in 2012. The title race in Hockenheim is the icing on the cake. We will be doing our very best to allow Bruno to leapfrog Gary Paffett with another good result. When the chequered flag is shown in Hockenheim for the last time this year, we will know just how successful we have been."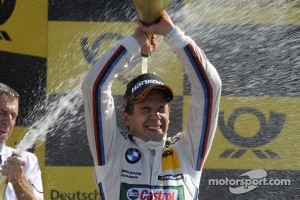 Podium: race winner Augusto Farfus Jr., BMW Team RBM
What are you hoping for from the season finale?
"Bruno and Gary, and Jamie too, have shown what great racing drivers they are over the course of the season. Although Bruno has ended up pointless on two occasions this season due to collisions that were no fault of his own, there is no point now in speculating about what position he would be in if the opposition had not taken him out in Hockenheim and at the
Red Bull
Ring. Our approach is to look forward, not back. One thing is certain: we accept the standings exactly as they are. All three fully deserve to be at the top come the end of the season. May the best man win in Hockenheim – in a fair finale."
Are you satisfied with the performance of the three BMW teams? "The wins and podiums achieved by BMW Team Schnitzer and BMW Team RBM, as well as the top three finishes for BMW Team RMG in Spielberg, at the Norisring and the Nürburgring, speak for themselves. We have also seen very good performances from the crews during pit stops. It is no coincidence, for example, that BMW Team Schnitzer has regularly been recognised as the fastest pit crew by tyre manufacturer Hankook. All three teams have entered the DTM willing to throw themselves into a new adventure together with BMW Motorsport, and ready to learn at record speed. The fact that we were able to reach a competitive level so quickly is a credit to every single member of the BMW squad."
Winner Bruno Spengler, BMW Team Schnitzer BMW M3 DTM and Jens Marquardt, BMW Motorsport Director
And, in the BMW M3 DTM, your development department has clearly enjoyed great success …
"Yes, without a doubt. We have not had any retirements caused by technical problems with the BMW M3 DTM – and that despite being newcomers. The car was excellent at almost all the DTM circuits, and this allowed our teams and drivers to attack. However, this does not mean we have already exhausted the full potential of the BMW M3 DTM. We are still finding ways to improve with every lap. The detailed work will continue undiminished. It was obviously very helpful and proof of the great work put in by the engineers that the basis was right from the onset. The BMW M3 DTM has proven it is a real winner."
Source: BMW Motosport