More than a million of spectators cheer for the drivers on day one. Four of the MINI ALL4 Racing pairings secure top-10 positions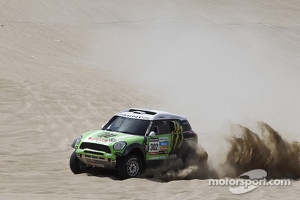 #302 Mini: Stéphane Peterhansel and Jean-Paul Cottret
It was a calm start into the 2013 Dakar Rally, for the Monster Energy X-raid Team drivers – a 250-kilometre liaison section, followed by an individual time trial with a distance of just 13 kilometres. In this prologue, French pairing Stéphane Peterhansel / Jean-Paul Cottret finished sixth, with their green MINI ALL4 Racing, right ahead of their team-mates Leonid Novitskiy (RUS) / Konstantin Zhiltsov (RUS) in the orange and Krzysztof Holowczyc (POL) / Filipe Palmeiro (POR) in the white MINI ALL4 Racing. All the three drivers set identical times and crossed the line in 8:14 minutes.
Meanwhile, Nani Roma and his French co-driver Michel Périn took their yellow MINI ALL4 Racing to 10th position. The fastest time was set by Spaniard Carlos Sainz in a Buggy.
Day one was mainly devoted to the thousands of Peruvian fans who just couldn't wait for the start of the legendary event. For the first time since the move to South America, the rally wasn't started in an Argentinean city – with Peru's capital following Buenos Aires and Mar del Plata as venue of the Dakar start. After having crossed the start podium, the drivers had to complete the 250-kilometre liaison section to Pisco. There, they once again were welcomed by a huge crowd of spectators who had come to the 13-kilometre prologue track early in the morning to secure the best positions.
"To have to start into the rally on this very soft sand represented a real challenge," revealed defending Dakar Champion Stéphane Peterhansel. "But the prologue was really short and so, making any assessment is virtually impossible. In any case, there were a lot of spectators everywhere – not only around the podium in Lima but also along the track located close to the bivouac."
"Unfortunately, my engine stalled during the prologue when I was braking on the soft sand," revealed Krysztof Holowczyc. "This was annoying but on the other hand, it didn't represent a major set-back as it was a short prologue at the very beginning of the event. But the huge crowd along the track – even during the liaison section – was pure madness. That's the South American spirit we love."
"This result was predictable," underlined Monster Energy X-raid Team Manager Sven Quandt. "We said right from the beginning that the buggies would enjoy an advantage, today."
X-raid MINI