What the winners and their rivals said after the sea of sand on day 3 of the 2013 edition of Dakar.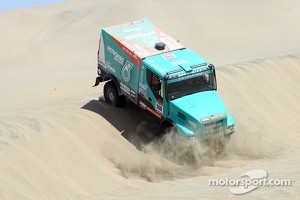 #500 Iveco: Gerard de Rooy, Tom Colsoul, Darek Rodewald
Bike
010 - David CASTEU "I caught up with the five leaders and then spent much of the stage at the front. I had a blast. It's always an emotional moment when you lead a Dakar special, because you know there's a huge caravan behind you. And then, just after a large dune 225 km into the stage, I discovered a stunning landscape. It was breathtaking! It was a really nice special and I've had a strong start to the Dakar. At any rate, I'm having loads of fun!"
007 - Francisco LOPEZ "The stage was very different from what we went through during the first two days. I started from afar and went flat out throughout the stage in an attemt to catch up with Cyril Despres, which I think I managed to do. I focused on navigating and finding the waypoints, and everything went well. But tomorrow's stage will be different at the front of the race, so I'm taking things one day at a time."
020 - Paulo GONÇALVES "It was a fantastic stage for me. But I had to do pull something out of the bag after losing heaps of time yesterday due to navigational problems. At the start, I knew I'd be able to claw back time today if I attacked without throwing caution to the wind, and it paid off because I finished second. So I'm very happy. Tomorrow will be a big day but I'll try to build on today's momentum."
001 - Cyril DESPRES "I had a fairly good special. Nothing out of the ordinary, but I think I made significant progress in the general classification today. I started in 12th place but I soon caught up with the leaders and I was at the front of the race from km 190 onwards. Considering that I started 20 minutes after Barreda and Pedrero, I think I did quite well!"
Quad
253 - Rafal SONIK "I got lost in a tricky place to navigate at km 68. I thought I'd gone too far so I had to recalculate everything just to be sure. I lost a few minutes, but most importantly I was unable to find a decent rhythm and it took me a while before I did. Everything went smoothly from then on. I'm easing into the rhythm of the Dakar. At any rate, I'm happy because my biggest mistake so far was driving too fast, not too slow."
250 - Marcos PATRONELLI "It was a beautiful stage, not unlike yesterday's. It also had lots of stones and cobbles towards the end. Tthe tyres didn't enjoy it. I had a flat 30-40 kilometres from the finish. But everything went well. I'm happy with the stage. I feel fine. The quad's in perfect working order. It was a great day."
Car
300 - Nasser AL-ATTIYAH "We won the stage and clawed four minutes back from Stéphane. And it could have been even better, but we stopped for a couple of minutes to help Carlos. It looked like he was having problems with the electronics and the engine cut-out, and since we couldn't do anything to about it, we kept going and didn't see any more cars until the finish line. The sand was very soft today and I decided not to go flat out because the car's very new and we still don't know how far it can go. No problems so far."
315 - Robby GORDON "We started very far back this morning but we caught and overtook loads of cars, so it was a good day for us. We needed to do this, but we also needed to take time back from Peterhansel, on whom I'm clearly focusing my race, and we only clawed back just over 2 minutes. My car's fast, but so are the Minis, we'll see... Al-Attiyah's also fast, as we saw today with his win and his recovery from yesterday's stage... I'm still racing to win the overall, I've got my work cut out for me, but we're going to do our best in every single stage."
302 - Stéphane PETERHANSEL "Yet another nice stage on the attack, just like we need to, without any navigational mistakes thanks to Jean-Paul. He was perfect even in those devilishly complicated places with motorcycle tracks in every direction... But we found our way and, all of a sudden, Carlos' tracks disappeared before us, so we assumed he'd stopped due to technical problems."
303 - Carlos SAINZ "We had engine cut-outs from the start of the special, apparently due to electronic problems. Our failing engine ran into trouble from the first dune belts. Things got worse as the morning went on until the car had enough of it and stopped... We looked around and saw a cable hanging in the passenger compartment. We reconnected it and the car got up and running again but, unfortunately, the engine continued to work in fits and starts throughout the last 60 kilometres."
301 - Giniel DE VILLIERS "Today was anything but good for us! It wasn't the car's fault, it's just that we made a huge navigational mistake which added almost 20 km to our tally. It got so bad that Dirk had to get out several times to see where we were and what direction we had to take. This is one of those mistakes which cost you dearly and in the end we must have lost roughly 25 minutes. That's the way it is... This is just the third special and there's still a long road before us, so we'll stay focused and try to do much better tomorrow. In the last few days we've already seen that things can change overnight at the Dakar..."
Truck
500 - Gerard DE ROOY "Yes, everything has gone well so far, but a puncture could cost us 15 minutes whereas right now we're only gaining 2 every day. Therefore, you can't rule out anybody yet, and I continue drive really carefully to avoid the slighest mistake. This is what the challenge is all about: driving fast but within your limits."
ASO DAKAR