Robb Pritchard, CCR Correspondent
STAGE 8: Wednesday, January 4, 2012
Boulanouar – Akjoujt (Mauritania)
SS: 425.89 km – Liaison: 9.66 km
Contrary to popular belief God isn't omnipotent and didn't endow this world of ours with paradise over absolutely every part. He forgot about, or for some reason didn't bother with, the strip of devastated wasteland between Western Sahara (or southern Morocco, if you prefer) and Mauritania. Also, when he was handing out rudimentary intelligence to the creatures of the Earth he seemed to have overlooked the Mauritanian border guards. For two hours I enjoyed a glorious display of inefficiency and outright ineptitude. I live in Russia so I have seen plenty of uniformed people trying to make doing paperwork as complex a process as possible but the Mauritanians have made it into an art-form.
But there is a reason for spending a day getting the convoy across the border and that is the stunningly remote and sparsely populated wastes of Mauritania which are the heart and soul of the Africa Eco Race, which, if I don't get in to trouble for saying it, what the Paris-Dakar used to be...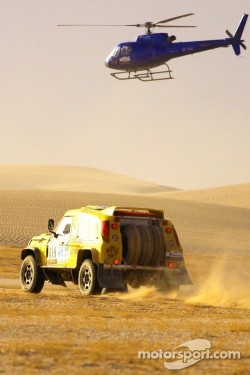 Rally action
The old Dakar was famed for it's insane extremeness and today the crews got a glimpse of that in the first stage out of Morocco. 425Km awaited at dawn and at two minute intervals the cars set off. A Land Cruiser overloaded with Russians, a Welshman and the team's kit isn't exactly the best thing to take on soft sand as we found out after a couple of kilometers, so we didn't really get to choose the best place to take photos, but the dunes look beautiful wherever you stand. Everyone blasted by with no problems, but at the other end it was a different story... the campsite was empty. With the sun about to set only 9 cars had made it in.
Having a drink next to his TATRA was a happy looking Tomas Tomecek. "Today was like I remember when I was a co-driver in '95 and '96. It was an old Partisan road from the war and Rene Metge was really clever with what he planned, it was a very nice route. We had some problems though. The sand was very soft and when we let the air out of the tyres we let out a bit too much and had 4 flats at the same time. So we had to pump each one up, but then blew another one off the rim so we had to stop and dig out and lost another 20 minutes. So when we got to the finish and found out that we were second overall behind Schlesser we couldn't believe it!"
'The Boss' himself, Mr Jean-Louis Schlesser was directing his mechanics as they looked over the car, but he seemed as unconcerned as normal. "I can't say that today was easy," he shrugged. "We were in a hole and my co-driver was out helping look and I tried to go out a couple of times and then I made it. But he was running behind and I had to go slow, and that's why I got stuck on a tiny little dune. It was so funny! But that was the first time I've been stuck for a very long time."
I asked what he thought about the others who were still out there in the gathering darkness. "Well, this is going to Dakar and that should never be easy! But today was really something!"
Well, this is going to Dakar and that should never be easy! But today was really something!
Over at the Overdrive Team it was a different story though. Frits Driesmans, Jacques Loomans' co-driver sat with a look of profound shock on his grubby face. "It was all OK until we fell in the tracks that the TATRA had made. We tried and tried with digging and with the sand tracks. Then we had 2 flat tyres... and we lost 3 hours..."
Sergei Savenko was at the table outside of his service truck carving the meat off a cured sheep's leg and handing out beers, but he didn't have such a good day either. "The track was good. Last year we looked, so this year we knew... but I am a biker and so I was thinking about how to ride over the dunes rather than drive. We lost a lot of time stuck, but it was a beautiful track!"
Also not full of smiles this evening was Elisabete Jacinto. The mechanics were making some serious repairs to her truck and she'd just come back from a visit to the doctor after hurting her neck. "My truck doesn't like soft sand so it was struggling all the time and we got stuck 4 times and once was even on a lump of camel grass which is normally good for traction. But the truck weighs 10 tonnes so when it is stuck it is really stuck! Also we broke a front spring. I didn't notice when I was driving..."
And so darkness falls and the camp is in a state of flux. The timesheets aren't out yet so no one knows who has lost how much time or who has had a good day and jumped up the leaderboard. We do know that Jean-Louis Schlesser and Tomas Tomecek have broken away in the car and truck classes and that more news and stories will come in as crews manage to make it back in the darkness.
But there will be no rest for anyone getting back late tonight as tomorrow is a 412km loop through the Mauritanian desert.