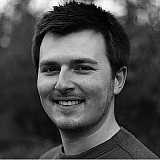 Gordon Shedden took another win for the new Honda Civic Type-R in dominant style in the opening BTCC race at Thruxton, as Matt Neal made it a one-two for the Japanese marque.
Starting from second on the grid, Shedden made a clean launch to move ahead of poleman Aron Smith as the lights went out, the BMR Volkswagen man bogging down with too much wheelspin.
Neal was able to move into second ahead of the Irishman as the pack arrived at the complex for the first time, and that was where the two Honda drivers would remain for the rest of the race, Shedden quickly establishing a two second cushion out front that he would more or less maintain to the finish.
Smith continued to pressurise Neal in the opening laps, himself being chased hard by Adam Morgan's Mercedes, but a podium finish went begging when his Volkswagen CC suffered a front-left puncture at around two-thirds distance.
That promoted Morgan to third, unable to do anything to catch the rampant Hondas after Smith's demise, with Jason Plato inheriting a lonely fourth – but securing pole position for race two by virtue of setting the quickest lap of the race.
Behind, the action was frenetic in the closing laps as an error by lead MG driver Jack Goff triggered an intense scrap for the lower points-paying positions.
Having moved up into fifth following Smith's puncture, Goff was under pressure from BMR's Colin Turkington, and clattered over the kerbs at Club chicane on the penultimate lap, costing both himself and the reigning champion precious momentum.
That allowed Andy Priaulx's WSR BMW, which had run as high as fifth early on before dropping back, to jump the pair of them to claim fifth at the chequered flag, with Goff's teammate Andrew Jordan also taking advantage to move up into sixth.
Turkington wound up seventh, ahead of Goff, who held off a stern challenge from Josh Cook's Chevrolet on the final lap. Tom Ingram (Speedworks Toyota) claimed the final point in tenth narrowly ahead of Sam Tordoff's WSR BMW, with the team's third car of Rob Collard slumping to 13th.
Martin Donnelly took a lonely 20th place finish on his BTCC debut for the Support Our Paras Racing Infiniti team, one place ahead of a lapped Smith, who was able to resume after pitting to replace his punctured tyre.
Race results:
| | | | |
| --- | --- | --- | --- |
| Pos | Driver | Car | Time/Gap |
| 1  | Gordon Shedden | Honda | 21m05.473 |
| 2  | Matt Neal | Honda | 1.016 |
| 3  | Adam Morgan | Mercedes | 2.710 |
| 4  | Jason Plato | Volkswagen | 9.866 |
| 5  | Andy Priaulx | BMW | 12.047 |
| 6  | Andrew Jordan | MG | 13.612 |
| 7  | Colin Turkington | Volkswagen | 14.159 |
| 8  | Jack Goff | MG | 15.631 |
| 9  | Josh Cook | Chevrolet | 15.719 |
| 10  | Tom Ingram | Toyota | 15.977 |
| 11  | Sam Tordoff | BMW | 16.207 |
| 12  | Martin Depper | Honda | 18.876 |
| 13  | Rob Collard | BMW | 21.127 |
| 14  | Rob Austin | Audi | 21.835 |
| 15  | Aiden Moffat | Mercedes | 26.963 |
| 16  | Hunter Abbott | Audi | 28.210 |
| 17  | Jeff Smith | Honda | 29.058 |
| 18  | Warren Scott | Volkswagen | 41.090 |
| 19  | Stewart Lines | Toyota | 50.467 |
| 20  | Martin Donnelly | Infiniti | 57.888 |
| 21  | Aron Smith | Volkswagen | 1 Lap |
| 22  | Andy Wilmot | Proton | 1 Lap |
| 23  | Derek Palmer Jr. | Infiniti | 1 Lap |
| 24  | Kieran Gallagher | Toyota | 2 Laps |
| Ret | Dave Newsham | Volkswagen | - |