1-2 for Belgian Audi Club Team WRT at eventful FIA GT Series opener.
An eventful rollercoaster of an FIA GT Series opening race weekend came to an epic close at Nogaro, South West France this afternoon when the #13 Belgian Audi Club Team WRT Audi R8 LMS ultra driven by Edward Sandstrom and Frank Stippler, took the main race honours.
Their place at the top of the results and a maximum 25-point haul was confirmed only after the 60-minute race ended when their Belgian Audi Club Team WRT team mates, Rene Rast and Niki Mayr-Melnhof were given a post-race time penalty for failing to switch their engine off at the mandatory pit stop.
Sandstrom and Stippler drove a perfect race after starting from the back of the grid due to problems in yesterday's qualifying event.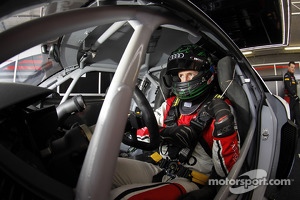 Edward Sandström
Stippler cut through the field early on, to set a perfect platform for his Swedish team mate to capitalise and eventually seal a famous victory for the Belgian team, pulling of a sensational overtaking move on Alon Day's #1 HTP Gravity Charouz Mercedes SLS AMG GT3 car.
"When you have a good Audi, with a good balance, as I had today, it is easier to stay on the track and do great things," said Sandstrom after the race.
"It is really some revenge for yesterday when the car did not start after the pit stop. Finally, we have this result and I am very happy, even if it was quite difficult with the weather and the track conditions."
The first half of today's race saw a spirited fight between Niki Mayr-Melnhof and pole sitter Sebastien Loeb. Mayr-Melnhof pushed the 9-times World Rally champion all the way during an enthralling first stint before the all-important pit stops.
The stops proved to be a pivotal moment for the shape of the race as the #9 McLaren MP4-12C was later given a retrospective penalty, as Loeb was adjudged to have unbuckled his belts before coming to rest at his pit stop.
However, before that Parente collided with the Audi, now in the hands of Rene Rast, spinning the German around and earning a further penalty after the race.
Loeb and Parente were eventually classified in 13th place overall and 8th in the PRO Cup, after the 30-second penalty was retrospectively applied.
The #11 Belgian Audi Club Team WRT Audi R8 LMS ultra of Stephane Ortelli and Laurens Vanthoor finished 2nd overall, after two sensational overtaking manoeuvres in the closing stages by Vanthoor on Alon Day's HTP Gravity Charouz Mercedes SLS AMG GT3 and Enzo Ide's Phoenix Racing Audi R8 LMS ultra.
Winning the PRO-AM class after the demotion of the Rast/Mayr-Melnhof Audi, was the Novadriver Audi pairing of Cesar Campanico and Carlos Vieira. The Portuguese duo drove a faultless race to claim maximum points in the PRO-AM cup class.
The penalised Rast/Mayr-Melnhof Audi was confirmed in 2nd place in class and 5th overall. Rounding out the PRO-AM podium was the impressive Nissan GT Academy Team RJN run Nissan GT-R NISMO GT3 of Alex Buncombe and Lucas Ordonez, who were placed 7th in the official result.
In the Gentlemen's Trophy it was the SOFREV Ferrari 458 Italia of Fabien Barthez and Gerard Tonelli that took the silverware in Nogaro. The pair claimed a double victory after claiming the spoils in yesterday's sprint race as well.
Barthez, who always excels at Nogaro was ecstatic at his, Tonelli's and the SOFREV team's work, saying: "It is a shame that the weather was so bad during the weekend but for sure it was a triumph anyway.
Gerard and I were able to gain some great experience so it is all good. A driver can adapt to any conditions, so it was important to be there today for us and to claim these super results."
Winning the first ever FIA GT Series Pit Stop Challenge was the Phoenix Racing crew. Their combined time from both races, from pit-in to pit-out was 1m32.723s eclipsing the #12 Belgian Audi Club Team WRT who turned their car around in 1m37.568s.
Commenting on the opening race weekend of the 2013 FIA GT Series season, Stephane Ratel, CEO and Chairman of SRO Motorsports Group, said: "It has been an eventful and ultra-competitive first weekend for the FIA GT Series, watched by a large crowd here at Nogaro.
So many great stories have come out of the close competition between a great variety of prestigious GT racing brands and also truly multi-national drivers. Zolder cannot come soon enough."
The battles in the FIA GT Series continue in three weeks' time when the FIA GT Series re-convenes at Zolder in Belgium on the weekend of 20-21 April.
SRO