By: Lynne Waite and Stella-Maria Thomas, F3 Correspondents
Story Highlights
Merhi wins by miles
Buller a worthy British Series winner
Sakurai triples Rookie Class win
Stunning comeback drive from Nasr
Invitation Class driver Roberto Merhi takes second F3 victory of the weekend at the famous Spa circuit
At Spa this lunchtime Roberto Merhi (Prema Powerteam) was once again head and shoulders above the opposition on a fast drying track, and dominated the race in the Invitation Class, not even the Signature team drivers Marco Wittmann and Laurens Vanthoor being able to stay with the young Spaniard. Of the British F3 International Series runners, the class of the field was William Buller (Fortec Motorsport), who gave Vanthoor a serious run for his money to finish 3rd on the track and winner in his class. Storming drives from Kevin Magnussen (Carlin) and Felipe Nasr in particular earned them the other two podium places in the British Series, Nasr putting in a drive worthy of the champion he is likely to soon be with a charge through the order from 20th to 5th.
Kevin Magnussen, William Buller
After a very damp morning the track was beginning to dry out by the time the cars lined up on the grid. It was no contest on tyres – the only way to go was slick shod, and so when the lights went out on the starting gantry it was a pack of 28 all on dry weather tyres who set off for a 40 minute charge through the Belgian forests. Merhi made a stunning start and was leading by a cars' length by the time they reached Eau Rouge while behind him there was much shuffling of the order. The trouble was that as several people has messed up their strategy in qualifying, the grid was more than a little odd, with some of the faster drivers a long way back in the pack. It was no surprise when various individuals went for it big time. Additionally, Jazeman Jaafar (Carlin), Scott Pye (Double R Racing) and Hywel Lloyd (Sino Vision Racing) all got docked a number of places for cutting the chicane in earlier races, so the whole lot were far more mixed up than is usual.
It was therefore probably to be expected when a bit of barging in mid-mob led to the first incident of the race, as Adderly Fong was forced into a spin, possibly by Hannes van Asseldonk (Van Amersfoort Racing), and then a corner later Lloyd was pushed into retirement after a class with Yann Cunha (T-Sport). Fong limped round to the pits, as did Cunha, and they both eventually rejoined the race. Another early pit visitor was Daniel Juncadella (Prema Powerteam), who was also caught up in all the bumping and barging. Meanwhile, at the front, things were settling down as Merhi vanished into the distance, leaving Wittmann to wonder what he had to do to catch the Signature car. Behind him Marko Asmer (Double R Racing) was having a bit of a set to with Carlos Munoz (Signature) for 3rd, while Vanthoor was having his work cut out to hold off Buller, the latter now with the bit firmly between his teeth. Behind them the top ten was rounded out by Raffaele Marciello (Prema Powerteam), Jack Harvey (Carlin), Lucas Foresti (Fortec Motorsport) and Pipo Derani (Double R Racing), while not that far back Nasr was already up to 13th. Shortly afterwards van Asseldonk limped into the pits and out of the race.
However, the story of the race was that of the Carlin recovery, because nothing was going to happen in the vicinity of the leader. He was already far too far ahead. Two laps in and Nasr was 12th and closing in on Pipo Derani (Double R Racing), Magnussen and Carlos Huertas (Carlin). Magnussen was already also on the move and attempted to pass Derani, but had to back off to avoid a collision, leaving him to Huertas. It wasn't long before the latter made his own move, running side by side with the youngster on the run into Les Combes and then blasting past in an effort to put some clear air between himself and the series leader Nasr who had already found his way past Magnussen as the Dane tried to recover from his pass on Derani. It did no good and Nasr closed the Colombian down anyway, the yellow car now looming in Huertas' mirrors. Meanwhile Magnussen now had his hands full with Jazeman Jaafar (Carlin) hounding him through the fast sections. There was a real possibility that no Carlin cars would make it to the finish if they all kept on like this.
Felipe Nasr
Ahead of them Harvey was showing strongly although he was also under investigation for not respecting the track limits, but it didn't alter the fact that he was putting in a very strong performance to hold off his more experienced team mates, if not with ease then certainly with brio. At least Huertas wasn't proving as much of a menace as he can be, largely because he'd got his hands full with Nasr, while Nasr was being spared Magnussen's attentions because the Dane was now locked in a full scale scrap with Jaafar, a scrap that Munoz seemed to feel he should join, making a ill-advised overtaking attempt that led to him being punted off while the other two continued as they were. What he also managed to do on his way off was to collect Derani, an innocent bystander for once. Closer to the front things were going downhill for Asmer now, after Vanthoor snatched 3rd off him and he found himself having to deal with a very determined Buller who really wanted to move up the order, even though he was the leading British Series driver now. It wasn't long before Buller was past and off in pursuit of Vanthoor, who he was intent on giving a very hard time to.
The leader, on the other hand, was having a very quiet afternoon – or at least he was until he encountered Fong to lap the Chinese driver. It took a bit of doing and he didn't seem too pleased about it, though he wasn't as aggrieved as Wittmann, who was provoked to fist shaking by the backmarker before he found a way round. Although two of the Invitation Class boys were a long way in the lead, not all of them were having a good day. Daniel Juncadella (Prema Powerteam) was back to the pits for the second time, maybe because it was safer in there. Meanwhile, Marciello was setting about Asmer, the Estonian proving pretty robust in defence of his 5th place despite the queue he now had building up behind him. It wasn't just Marciello who wanted a piece of the action; so did Harvey, Foresti and the Huertas/Nasr/Magnussen/Jaafar/Svendsen-Cook cluster too. While Buller continued to hound Vanthoor, getting past finally after they lapped Fong, Foresti was taking a look at Harvey, who would have been well advised not to look in his mirrors! Meanwhile Nasr tried a move on Huertas and then backed off, while Marciello was through for 5th on Asmer. Despite the aborted move on Huertas, Nasr had now found a way through, and was now behind both Foresti and Nasr.
Elsewhere Scott Pye (Double R Racing) was having black and white flags waved at him for not respecting the track limits at Turn 3, but that was of little moment set against what was now going on as the pack fought for the British Series lead – or at least 2nd. Harvey was coming under intense pressure from Foresti and Nasr now, and it got worse once Nasr got the drop on Foresti, while Huertas dropped a place to Magnussen. Interestingly Foresti immediately started to lose ground to Nasr, and didn't seem able to maintain the pace, which saw Harvey and Nasr bottled up behind Asmer, both driving so close as to be almost glued together. Foresti was in serious trouble now, with Magnussen crawling all over him, Magnussen finally going through at the Bus Stop in a move that would be looked at very hard by the race officials afterwards. However, the man on a real charge was still Nasr, who had a go at Harvey at the Bus Stop, failed there and instead went through on the inside at La Source. To his credit Harvey came back at the Brazilian at Eau Rouge to reclaim the position, although it wasn't enough to put Nasr off trying again. With two laps to go Harvey finally ran out of answers and Nasr was through to 2nd in class, pulling Magnussen with him. Sadly for Harvey that left him vulnerable to Huertas, who also charged through in the closing stages, to Harvey's intense disappointment. The excitement was now almost over, although not before Marciello was shown the black and white flag for not respecting track limits, and also not before Magnussen came under investigation for the same thing.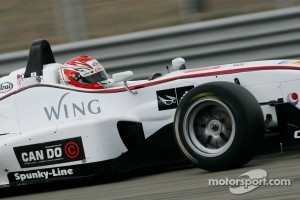 Kotaro Sakurai
On the road, Merhi was the clear winner in another stunning blow to the hopes of anyone who plans to run in either the Masters of F3 at Zandvoort in two weeks or in the Macau Grand Prix at the end of the year. The formerly fast but erratic Spaniard is now just fast. Wittmann, who finished 23 seconds behind in 2nd place certainly has no idea what the answer is. Buller was 3rd, from Vanthoor, Marciello, Asmer, Nasr, Magnussen, Huertas and Harvey. Foresti ended up 11th, from Jaafar, Daniel Abt (Signature), Svendsen-Cook, Pye, Pietro Fantin (Hitech Racing), Harry Tincknell (Fortec Motorsport), Bart Hylkema (T-Sport), Fahmi Ilyas (Fortec Motorsport) and Menasheh Idafar (T-Sport). Cunha finished in 21st after a pit stop caused by his earlier exploits, just ahead of Sakurai and Fong who was a lap down. It is possible that any or all of these results may change as there were a number of investigations after the race, the results of which are not known yet.
Fastest race laps went to Merhi, Nasr and Sakurai.
Weather: Cool, cloudy, damp.
Next Rounds: Rounds 22-24, September 3rd/4th, Rockingham Motor Speedway, Northamptonshire.