By Allan Brewer
Story Highlights
Automotive ideas begin on the race track
New York Auto Show shows new technology
From Racetrack to the Street: a report from the 2011 New York Auto Show
Racing technology improves the breed, or so they say. In an era of 4-buck a gallon gasoline the breed certainly needs all the help it can get. Walking the busy show floor of the 2011 New York Auto Show left little doubt what the car-makers are thinking about this year: fuel economy. With gas prices daily climbing ever higher it's also on the mind of the car-buying public as it considers how to cope.
Nissa Versa
Gone are the days when simply putting the family car on a diet effectively impacts this calculus. The makers are constrained by safety concerns that impact just how lightweight they can go; generally at the point where the tin begins to fail to measure up to impact-resistance.
Most manufacturers are turning to proprietary technology packages of engine, transmission and fuel as a coordinated multi-piece solution. In many cases, they're bringing automotive ideas that began on the track to the family sedan.
The 2012 Mazda 3 model that goes on sale this fall offers a technical package the company calls Skyactiv which uses a direct-injection gasoline engine mated to a dual-clutch automatic transmission and a spaghetti-exhaust system straight from a 1960's Formula 1 design. The gasoline engine operates at a compression ratio of 14.0:1 that works in harmony with the company's "4-2-1" exhaust system, cavity pistons and multihole injectors to enable greater operating efficiencies. The convoluted, twisting exhaust hardware of the 4-cylinder engine brings waste gases from pistons 1 and 4 into a separate channel from pistons 2 and 3; then merges them all together into a single outlet. The result is backpressure that helps to create the remarkable compression ratio, touted as the world's highest in a production car.
The Mercedes A-Class concept car on display at the 2011 New York Auto Show combines turbocharging, a relatively commonplace finding on the road these days, with 4-cylinder economy. From an enthusiast standpoint the Concept A-Class is a real show-stopper: a deftly-styled subcompact with a transversely mounted 2.0 liter turbocharged four-cylinder gasoline engine of 210 hp mated to a dual clutch transmission driving the front wheels. The car features a radar-based collision warning system integrated with the electronically enhanced braking for greater safety, and it sports aluminum-encased fiberoptic daytime running lamps arranged in a wing-shape within its headlamps that transform the car's flashy tri-star emblazoned front grill into a rhinestone-bedecked Teutonic grin.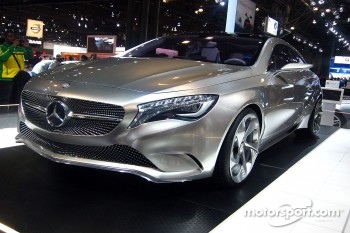 MB A-Class concept
The 2013 Ford Taurus Limited model gets a 2.0 liter 4-cylinder Ecoboost engine, with fuel charging and delivery systems that can achieve fuel pressures of up to 2150 PSI into its direct fuel injection system. The current Taurus SHO model boasts a 3.5 liter Ecoboost V-6 that uses 2 turbochargers operating at up to 170,000 rpm for as much as 12 PSI of boost. The engine is even compatible with regular unleaded fuel, although the manufacturer recommends premium grade.
Chevy's Malibu Eco version adopts G.M.'s e-Assist hybrid system. Coasting and regenerative braking help recharge the 115 volt lithium ion battery that is paired with the 2.4-liter Ecotec four-cylinder engine. The regenerative braking creates electrical power by transforming heat from the discs into an electrically charged spark. The battery acts as a boost power source during periods of higher demand (eg, acceleration) by kicking in an additional 15 horsepower to the 180 horsepower generated by the gasoline engine. The car's aerodynamic profile is also tweaked with underside panels that streamline airflow beneath the vehicle.
The Kia Rio holds a curious notoriety as the first gasoline-powered car with a fuel-saving engine stop-start system. The system is similar to that found on hybrids. When the car comes to a stop, the engine computer cuts spark and fuel. When the driver lifts his foot off the brake, or engages the clutch, the engine fires back up. A more robust battery than standard equipment for a vehicle of this size is required to ¬operate the car's electrical systems while the engine is off, as well as a beefed-up starter that can tolerate the repeated cycling up to power.
The Nissan Versa wrings a 30/37 mpg rating in city/highway driving from a 5-speed manual or continuously variable automatic that can march through an unlimited number of drive-gear ratios (as opposed to conventional systems with a fixed number of forward gear ratios). The CVT permits the driveshaft to revolve within a lower and upper bound of revolutions, and allows the engine to run in its most efficient range at any vehicle speed. Alternatively it can be used to maximize the performance of a vehicle by allowing the engine to turn a constant RPM at which it produces its peak power.
Spyker
Enzo Ferrari had the 2012 Jeep Cherokee SRT8 model in mind when he quipped that "aerodynamics is for those who can't build a powerful engine." Chrysler's brawny SUV runs circles around the neighbors' hybrid ecomobile fleet thanks to 470 horsepower and 470 lb ft of torque from its 6.4-liter hemispherical head V-8. The technology is old school: a hemispherical combustion chamber allows the valves of a two valve-per-cylinder engine to face each other across the chamber, rather than opening side-by-side. This creates more space in the combustion chamber roof for the use of larger valves and also straightens the airflow passages through the cylinder head, and creates what is known as a cross-flow head, where the intake charge flows directly across the chamber to the exhaust valve located directly opposite it. These features significantly improve the engine's airflow capacity, which can result in relatively high power output from a given piston displacement.
Low-profile boxer-engine technology steps forward in a new 148-horsepower 2-liter opposed 4-cylinder engine in the Subaru Impreza that is paired with either a 5-speed manual transmission or a CVT with projected fuel economy of up to 27 mpg in city and 36 mpg on the highway. Scion marries Subaru's boxer powerplant, mounted as low and rearward as possible in the front engine bay to aid handling balance in its joint Toyota/Subaru FR-S concept, and includes a dual direct and port injector design that nudges both torque and horsepower upward while also achieving better fuel economy. A production model of the car is expected to debut in the next year or two.