Subscribe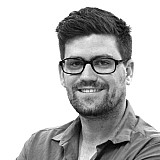 James Koundouris and Marcus Marshall won a Safety Car-affected second Australian GT Championship race on the streets of Adelaide.
The race started with a long Safety Car period after Keith Wong, Aaron Tebb, and Rod Salmon got together on the first lap. It wasn't until 11 minutes in that the circuit went green again, Nathan Morcom and Christopher Mies doing battle for the lead.
The pair ultimately had a coming together right at the end of the first stint, Morcom spinning and Mies taking over the lead. But the German didn't stay in front for long, the #4 Audi taking over the lead during the stops as Marshall handed over to Koundouris and Mies handed over to Geoff Emery.
As the stops shook out Kondouris led Emery by 10 seconds, however the lead quickly disappeared when Mark Griffith spun his Mercedes at Turn 12, sparking a second Safety Car.
It took until effectively the end of the 38-minute race for the race to restart, making it a two-lap dash to the flag. Koundouris was able to do enough to hold on for victory, the gap between he and Emery just 0.4s at the finish.
Race 1 winner Roger Lago finished third after a solid solo drive.