In an exclusive interview with Motorsport.com's Richard Sloop, Jonathan Summerton shared his newest adventures. Summerton was one of the stars in the open-wheel racing in the USA. The racer from Florida competed in the Formula BMW series, and he already knew RLL co-team owner Bobby Rahal which made his ride with the team a homecoming of sorts.
This is been a pretty exciting year for you. Your first year in a GT car after many years in a formula car, how has the transition been? It has taken some getting used to due to less downforce and a heavier car. But I really love it and being with this team. Everyone on the team is really great and I look forward to doing this again next year.
My first race with the team was at Sebring and we won!
With this being your first year in the American Le Mans series and new to its fans, tell us a little about yourself. Well I started racing carts at age 14 and then moved into the Skip Barber series. In 2004 I moved up to the Formula BMW USA team and won a scholarship to race in their international series. I finished second at Spa…
That must've been a learning experience… Oh yeah… Spa is an amazing track. Racing in Europe is very exciting, very competitive. In 2006 I raced in the Formula 3 Euro Series and won the Hockenheim race! It was a great year.
So then you went to A1 Grand Prix? Well I did both series between 2006 and 2008. A1 Grand Prix was a very exciting series; I wish it'd been successful. I was fortunate enough to be the first American to win a race in it at Shanghai. That was a very happy moment for me!
So then you moved on to the Formula Atlantic championship and some Indy Lights. You did pretty well... Jonathan - Yes, the first year I finished third in the Atlantics championship and had wins at Edmonton and Road America. The second year, I finished second in the championship due to a tiebreaker but had wins at New Jersey, Mid-Ohio, Mosport and Road Atlanta.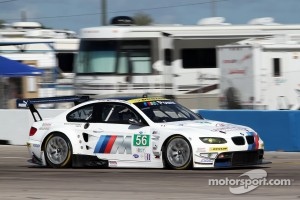 #56 BMW Team RLL BMW M3 GT: Joey Hand, Dirk Muller, Jonathan Summerton
So now after spending practically your entire career in formula cars you decide to sign with BMW Team RLL racing. That's a big step...
It's a no-brainer for me. The team is highly experienced, organized and very professional. I can't say enough good things about this team.
Do you plan on returning next year? That's what I want to do. I am so looking forward to it. This has been an incredible year for me. My first race with the team was at Sebring and we won! I just couldn't believe it! It was incredible...
So this weekend is the last race of the season at Road Atlanta. You've been here before in a formula car and won. What you think your chances are of winning here again? Our team and our car is so strong, I think we can win anywhere. Road Atlanta is one of my favorite tracks...
Well, give us your impression of driving around Road Atlanta... What a fun and exciting track to drive around. Turn 1 is by far one of the most amazing and daring turns at any track I have been to. From there, you climb your way up to Turn 3, which in the GT cars will be interesting for me as in Formula Cars. It is a fast corner but you have to be aware of the big curb at the apex. On exit, you enter immediately into the Esses which will be new for me in a GT car. It's going to be a little different due to the difference in weight and downforce. I'll be trying to stay as flat as possible.
The next turn, 5, has to be my favorite turn on the track. You can gain or lose a lot of time here and it is just one of those corners that as the sun goes down it only gets harder. Turn 6 is fun and fast. Turn 7 is tricky because it is always a little slippery on entry, in the brake zone, but always easy to get the power down on exit. The back straight is fast! Lots of moving around and jostling. Heading down into the Turn 10A section, where most of your passing is done, is going to be a lot of fun in the GT car.
Jonathan Summerton
Getting your braking correct is very important. You have to use all of the curbing and just "hound" through it! Going under the bridge and plunging into the last corner will be a new experience for me in a GT car. It will be the hardest one to learn because you are completely on the edge, fighting for balance all the way through the turn. I will also have to learn about the pit entry as I have never used the pits on the inside of the track.
That's my take on Road Atlanta, a very exciting race track. I will need to do a lot of learning this week before the "Petit Le Mans". I have some great BMW teammates who will be helping me and hopefully we can get another endurance win like we did at Sebring. Winning two major races in my Rookie season in GT's would be awesome! We can do it...