Nancy Knapp Schilke, ALMS Correspondent
The return of the Viper to the American Le Mans Series met with success at the Mid-Ohio Sports Car Course in Lexington, Ohio this past weekend. They did not expect to score a victory there first time out, nor even finish on the podium, but their engineers, drivers and crew finished the two hour and 45 minute sportscar race, and that is what counted.
The SRT Motorsports 2013 Viper GTS-R factory program completed their race test, and that was their only goal. Both cars ran smoothly, without any major loss of time or mechanical failures.
The GT class team saw their #91 Viper finish in 10th with drivers Dominik Farnbacher and Kuno Wittmer, the Viper of Tommy Kendall and Marc Goossens ended up in 12th. Kendall celebrated his return to professional racing as if he was the victor, and his teammates joined in on the high-fives and smiles shared by the entire two-car team.
Our goal was to run as many laps as we could and finish both cars.
The road to reach their first goal was shorter than many on the outside expected, and with little testing on a track, the combination of their leadership, the crew, and top race car drivers was the key element. Not to give up, to push as hard as they could on and off the track, and work together like a finely tuned instrument. They conquered the first race in two new Viper GTS-R racing machines.
Under the leadership of SRT Motorsports Road Racing Manager, Gary Johnson, along with Riley Technologies owner Bill Riley , and Ralph Gilles, President and CEO – Street and Racing Technology Brand and Motorsports, Chrysler Group LLC., the team gelled in its early beginnings. The program was announced at the New York Auto Show on April 4th, and just four months later, they surpassed their expectations.
In New York, Gilles stated: "Racing has been a significant part of the illustrious history of Viper not only with significant wins on the track, but also in the continued development of the street cars – and our new 2013 SRT Viper models are proof of those lessons learned,"
After the Vipers first race, Johnson commented, "Our first goal was to get through the race without any major problems. We accomplished that. In fact, we were making progress throughout the race. The cars were getting better. Today's race gives us an opportunity to know where the issues are and where we need to focus."
Now they begin their preparation to take on the longer road course in Elkhart Lake, Wisconsin. They have less than two weeks before they head to the challenging Road America circuit.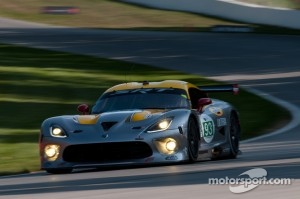 #93 SRT Motorsports: Marc Goossens, Tommy Kendall
Riley's company will continue to focus on the two Viper GTS-R cars built at their shop. Concerning Saturday's race, Riley said, "It wasn't pretty but both cars finished. We've got a lot to build on. We're about two seconds off where we need to be and that showed in the race. Now we need to build on that and go from there. We were consistent but there are things we have to work on.
"There are gains to make with the car. We'll keep chipping away on it. "I think we'll get about half of the gap taken care of pretty quickly," added Riley.
Dodge branded teams have already shown success in the past with the Viper, Shelby and other racing cars. They have a good chance of being competitive before the end of the 2012 season, and bring the challenge to the Corvette, Ferrari, Porsche and BMW teams.
The newest manufacturer to return to sportscar racing already won the first battle by having not one, but both cars finish in their debut race. Team driver and champion racer, Kendall commented, "Our goal was to run as many laps as we could and finish both cars. It's a tribute to this group, all the guys on these two cars. We've got plenty to work on. I'm encouraged. I thought our race pace was decent. There's certainly some good take-aways."