Sebring 12 Hours
RISI COMPETIZIONE UPDATE 1 AT 2:30 PM AFTER 4 HOURS OF RACING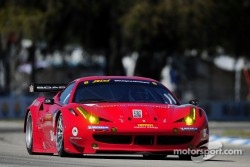 #062 Risi Competizione
Ferrari
F458 Italia: Jaime Melo, Toni Vilander, Mika Salo
SATURDAY, MARCH 19 - After one third distance in the Mobil 1 Twelve Hours of Sebring, Risi Competizione's all new GT challenger, the No. 62 F458 Italia GT, continues to run well and is currently in third place.
In hot and sunny conditions, from his starting place of fifth in the GT field, Melo made a clean getaway and remained in contact with the leading group despite struggling with a lack of grip. Having started the race on hard compound Michelin tires, Melo was able to profit from an early caution period (38 minutes into the race) to come in for more fuel and new tires. The Brazilian went on to lead the highly competitive GT pack for 25 laps before the next round of pit stops.
Jaime Melo: "After the start I was struggling a bit to keep the pace with the BMWs and Corvettes, but we were on qualifying tires so of course they weren't as good as new tires. We are still missing some speed on the straight line, but the car isn't too bad. At the first pit stop under yellow I asked for medium compound tires; we got some speed from them but with this heat it was maybe not a good choice so we've gone back to the hards for now.
"It wasn't easy to keep the pace, especially with the Corvette behind me which was very quick – they were pushing a bit. I was maybe a little bit better on traffic I think which helped me to keep the gap but otherwise so far so good."
Since Melo's stint, both Toni Vilander and Mika Salo have taken their turn in the Ferrari and, despite struggling with a slight handling issue, lap times remain competitive and the Ferrari is running without any major problems.
A further update will be issued after eight hours of running.
-source: risi