Team release
After scoring one of the American Le Mans Series greatest come-from-behind wins at Lime Rock Park last weekend, Muscle Milk Pickett Racing is returning July 20 - 22 to the scene of its two most dominating race wins, the newly renamed Canadian Tire Motorsport Park.
The past two seasons at the Canadian track, the team owned by Greg Pickett has led all on-track sessions it has participated in, claimed pole positions each year and took convincing wins around the 2.459-mile, 10-turn road course, lapping all but one car in the field both times.
The team will be making its first visit to the famed track for the Mobil 1 Grand Prix of Mosport with its Michelin-clad #6 Muscle Milk HPD ARX-03a, and hopes to once again increase its Championship lead.
Podium: overall winners Lucas Luhr, Klaus Graf
After taking the lead in the standings two races ago, the team gained another four points on Dyson Racing with what was their third consecutive win this season, giving them an eight point gap ahead of their Championship rivals.
Their previous win was the 10th ALMS victory for the Benicia, California-based team, 11th for Klaus Graf and 38th for Lucas Luhr, who now sits tied for second in the all-time win column.
Known as a track that separates the men from the boys due to its challenging nature, the circuit previously named Mosport International Raceway is amongst the favorite tracks of both Muscle Milk drivers.
Birthday Boys
It just so happens that both Klaus Graf (July 21) and Lucas Luhr (July 22) also get to celebrate their birthdays at the Bowmanville, Ontario circuit. As was the case last season, the German duo will be hoping to give themselves the best birthday present a racecar driver can get.
After competing in a patriotic livery at the previous round, Muscle Milk Pickett Racing is returning to its regular, though slightly revamped, wrap on its HPD ARX-03a.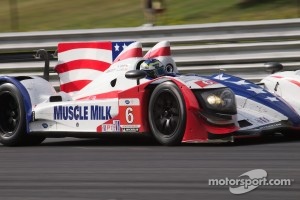 #6 Muscle Milk Pickett Racing, HPD ARX-03a Honda: Lucas Luhr, Klaus Graf
Muscle Milk Quotes
Klaus Graf, #6 Muscle Milk HPD ARX-03a "Coming to Mosport (Canadian Tire Motorsport Park) is always something special as there is no other track like this one in North America. The track is very challenging and you have to approach it with a lot of respect because speeds are so unbelievably high there.
"Having said that, I have to say I really like the track and the last two years have been very good for Muscle Milk Pickett Racing with back to back wins. I can't wait to get on track with our Muscle Milk HPD ARX-03a.
"We take a lot of confidence from our recent race wins. The hard fought battle at Lime Rock will especially have us heading into the race weekend in good spirits.
"Finally, Canada is also an important market for us. We recently increased our distribution of our Muscle Milk products in Canada, which makes it very exciting as Canada is a part of the International department at CytoSport for which I work."
Lucas Luhr, #6 Muscle Milk HPD ARX-03a "Mosport (Canadian Tire Motorsport Park) is one of the best but also most dangerous tracks on the ALMS schedule. It is very quick and has a lot of blind corners that make it very challenging. As I say each year, it's a track that separates the men from the boys and I look forward to going on track with our Muscle Milk HPD ARX-03a for the first time, it should be very exciting.
"After our three wins in the last three races, we have good momentum going and that is always very nice. Klaus and I like the track very much and I think we should do very well there."