Momo Automotive Accessories press release
MOMO RETURNS TO RACING IN THE ALMS WITH A VISION FOR THE FUTURE
After making a noticeable North American auto racing comeback at the 2012 Rolex 24 At Daytona with NGT Motorsport, MOMO is pleased to announce that the Italian company will sponsor the #30 MOMO NGT Motorsport Porsche 911 GT3 Cup in the GTC class of the 2012 American Le Mans Series presented by Tequila Patrón.
The MOMO NGT Motorsport #30 which bears a striking resemblance to that of the MOMO race cars from the past is co-driven by 2011 Porsche Carrera Cup Vice-Champion Sean Edwards, 2011 IMSA GT3 Cup Challenge Champion Henrique Cisneros and multiple IMSA GT3 Cup race winner and pole award winner Carlos Kauffmann.
Our return to North American racing in 2012 is for us very, very important, a big opportunity.
Founded by Gianpiero Moretti in 1964, MOMO currently sells its products in over 20 countries with the top five markets being USA, Italy, Japan, France and Germany.
Although the company currently sells predominantly after-market wheels and is expanding its range of wheels to new market segments, it also intends to re-establish itself as a supplier of racing products and accessories, both with a traditional range of products (steering wheels, seats, suits, gloves, shoes, etc.) and, in the coming years, new items, with a highly innovative content directly derived from the feedback of professional drivers and teams associated with MOMO.
More than ever, MOMO will use competitive racing as the ultimate testing environment for its racing products and accessories. There is simply no better way to test your mettle! MOMO also intends to re-establish close links with top-tier automobile manufacturers active in motorsports, to jointly develop products that will ultimately meet the requirements of racers all over the world.
MOMO Italy Managing Director, Massimo Ciocca, traveled to Sebring, Florida to make the official announcement and see the MOMO NGT Motorsport team in action at the 2012 Mobil 1 Twelve Hours of Sebring. Massimo talks about MOMO and its future in racing in North America and the world.
When did you start working with MOMO?
MC: I started working with MOMO in 1989.
Are you a racing fan yourself?
MC: I don't know if I'm really a racing fan but for sure I like exciting races and fast cars. In more than 23 years of activity, of course, I met many drivers, big names and not so big ones: everybody gave me a passion for racing.
What was your relationship with Gianpiero Moretti?
MC: When I met Gianpiero Moretti the first time I was only 27 years old and he was already a very successful racing driver and businessman. He always helped me with his suggestions and his good humor. We had in all our years together a very open and straight relationship.
In the late 90s when MOMO was very successful on the racetrack and won the Rolex 24 At Daytona and the 12 Hours of Sebring the same year, in 1998, how did it affect the company sales and awareness at that time?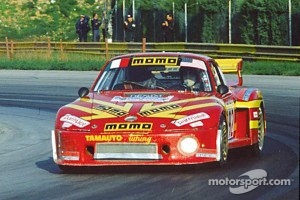 A MOMO Porsche
MC: I have to make a distinction between sales and brand awareness: brand awareness was brighter after those victories, even though it was already very high. Sales were big before and stayed big: sales numbers are not only affected by brand awareness but also by a more complex mix of quality, price, marketing, distribution and passion. Those are the most important ingredients.
MOMO announced the return to North American racing this year at Daytona, can you tell us what the primary goals of MOMO are, using racing?
MC: Our return to North American racing in 2012 is for us very, very important, a big opportunity. The reason for this is because, thanks to our new racing activity, we have the possibility of keeping high our brand awareness world-wide and, very crucially for us, we can have once again the chance to co-operate with very professional drivers and teams to develop the new generation of our racing products.
Why did you elect to return sponsoring a Porsche in endurance racing and not an INDYCAR or NASCAR team?
MC: As usual, in these kinds of decisions there is, at least partially, a component of coincidence: we had the chance to meet some drivers having already their interest in endurance racing with Porsche and also because, without a doubt, Porsche is a quintessential European fantastic race car, very attractive for the European racing fans as well as the Americans.
MOMO was one of the leading racing product suppliers (race suits, shoes, etc.) in the 90s. For years the MOMO brand has been absent from North American auto racing, what makes you think MOMO can become a leader again in North America?
MC: Our passion, our professionalism a full range of new, exciting products for 2013, and the good contacts we still have in the racing community.
MOMO and Max Papis have been working together and have developed the NASCAR steering wheel. Can you tell us about this venture and product?
MC: This is an idea of Max and of our MOMO USA General Manager, Marc Phaneuf. Approximately three years ago Marc phoned me one evening trying to explain to me the effectiveness of this project. This could be for sure a good business for MOMO, a bright advertising for our brand but mainly, and this was what really excited me, we had the chance to offer to NASCAR drivers a different steering wheel, a genuine leather steering wheel, much more sophisticated than the standard wheel used in NASCAR since then.
Tell us about the MOMO wheel business?
MC: MOMO wheel business is our core business. World-wide, mainly in Europe, we experienced in the last years a huge growth in revenues related to the wheel business. And we are just at the beginning. The wheel business is probably less exciting than the Racing business, but it's very nice in terms of opportunity and daily design challenges.
Where does MOMO stand as a racing product supplier worldwide at the moment?
MC: MOMO never stopped to be a racing product supplier world-wide. Our experience in racing started many years ago, in the early 60's with our steering wheels, early 70's with our road wheels and in early 90's for overalls, gloves, shoes and seats. Racing is in our DNA and it will be forever. In the recent years we had to make decisions relating to our strategies and, consequently, our investments: first the road wheel business and after this the racing business. During that time, the worldwide recession reached the racing business as well: less sponsorship equals less money. In a few words, we gave priorities and we waited for the right time and the right chance.
MOMO is not back, because it was always in the market, but for sure MOMO is once again back on the starting grid!
The 2012 American Le Mans Series presented by Tequila Patrón begins with the 60th Anniversary Mobil 1 Twelve Hours of Sebring Fueled by Fresh from Florida on Saturday, March 17. The race is set for 10:30 a.m. ET and will be broadcast March 18 on ABC and shown live on ESPN3 and ALMS.com.
Follow the MOMO NGT Motorsport throughout the 2012 12 Hours of Sebring event and the ALMS season on Facebook.com/MomoMotorsport and on Twitter @MomoMotorsport. Visit our Media Blog at Momomotorsport/blogspot.com.