Long Beach
Powered by Chicken 'n Waffles, Magnus Racing Finishes third in Long Beach
April 16, 2011 (Long Beach, CA) – Living near the Grand Prix Circuit in Long Beach, Craig Stanton was more than a little motivated about competing in this weekend's American Le Mans Series race at the world famous street circuit. His no. 77 Magnus Racing Porsche 911 GT3 Cup, which was sponsored for the weekend by local hotspot Roscoe's House of Chicken 'n Waffles, would line up fourth in the GT-C class for Saturday's two-hour ALMS contest.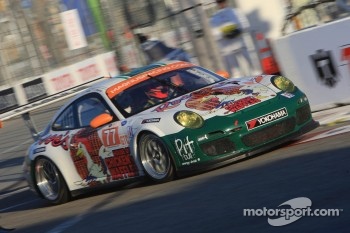 #77 Magnus Racing Porsche 911 GT3 Cup: John Potter, Craig Stanton
Two hours later, the team would be celebrating their second podium in only three races in the ALMS, albeit with a bit of controversy as Stanton and Dion von Moltke's no. 68 made contact down the back straightaway while contesting for the third spot.
Team owner John Potter took the green flag to start the race, battling for second place in the first hour while conquering the challenges of making room for faster prototype traffic around the tricky confines of a street course. The team split strategies with the leaders during an early yellow, electing not to pit, which created a real strategy situation for all teams as they gambled on when another yellow might fall. An anticipated mid-race caution period unfortunately never came, and the no. 77 spent a long time on fading tires, with Potter doing his best to keep pace with the leading pack. Handing the car over to teammate Craig Stanton with under an hour to go, an uncharacteristic spin from Stanton set up the chase at the end with von Moltke, which saw him claw back the thirty-second lead that von Moltke enjoyed.
But all things considered it's great to get another podium in the ALMS...
"With so many local fans really rooting for our car, the pressure was on to deliver a podium," said Potter. "It was definitely a rough day out there – we got knocked around a bit by faster traffic and I got into the back of a car when we stacked up in the hairpin. These races really are about keeping all four tires on the car and pointed in the right direction. But all things considered it's great to get another podium in the ALMS and we had a great time here in Long Beach, enjoying the sun and eating lots of chicken and waffles."
Stanton, while happy that he was able to drive the Magnus Racing Porsche onto the podium, was not thrilled about the way von Moltke's race came to an end.
"I feel bad that Dion's car ended up damaged, but it was one of those deals," said Stanton. "I ran my line and he ran his, and he went for a ride into the wall. I don't like when things like that happen but there isn't any margin for error on a street circuit like this. I love competing here at Long Beach, and it was incredible to enjoy a lot of local support for our team and to be partnered with Roscoe's."
-source: magnus racing