Maxime Martin: "We had the car and the pace to win !"
Maxime Martin hardly had time to enjoy the celebrations following the victory in the Blancpain Endurance Series on the Paul Ricard circuit, as he rushed off once again across the Atlantic to continue his highly intensive programme.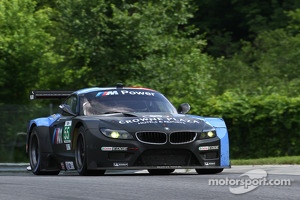 #55 BMW Team RLL BMW Z4 GTE: Bill Auberlen, Maxime Martin
This time around it was to Connecticut, in the United States, where this weekend the small Lime Rock circuit was hosting the fourth round of the American Le Mans Series. The perfect opportunity for the Brussels based official BMW Motorsport driver to be reacquainted with Bobby Rahal's BMW Team RLL and his ALMS teammate, the American Bill Auberlen…
"Lime Rock is a very small circuit, where one completes a lap in about fifty odd seconds, Maxime explained. It's not fundamentally complicated, however the last two bends are not that obvious. And more especially the last one, which you take flat out in 5th! The major worry on this track is the traffic. To have LMP1, LMP2, LMPC, GTE and GTC all racing together remains a stylish exercise …"
The week-end kicked off perfectly for Maxime, clocking up a 2nd best time in GTE during the qualifying, just behind the other BMW Team RLL's Z4 GTE; " We hardly drove during the free practice sessions, but this did not stop us from realizing how the BMW is suited to the circuit performance wise, Maxime continued. I took the start, and after having furtively taken the lead I found myself blocked and fell back to 2nd.
Not serious … On the other and far more annoying was that in the first lap Olivier Beretta quite simply forgot to brake, and he hit me, sending me into the sand trap! Outcome: I set off again in last place!"
On this short track Maxime set about catching his rivals, and notwithstanding the difficulty in overtaking, he climbed back into ….3rd place, and within the same lap as the two leaders! "When Bill set off we had a one lap lead over the 4th placed car, and everything looked fine. Unfortunately my teammate came into contact with a Porsche GTC, sending it into the sand trap. Result: a 60 seconds Stop & Go! On a track where one laps in some 50 seconds this was not a good operation…
We found ourselves back in 9th place, and Bill did everything in his power to climb back up into 4th spot. Pity really seeing we had the car and the pace to clinch another victory following the one at Long Beach. It was the team's other car, driven by Dirk Müller and John Edwards, that took the laurels, which has allowed the German to handsomely head up the championship, where I'm presently lying in 3rd position."
Following this rather eventful round Maxime is heading on back to Europe, Next weekend he will act as the reserve driver in the DTM at the Norisring, prior to heading back to the Americas for the fifth round of the ALMS held at Mosport, in Canada. It will then be a mad rush back to Belgium, for the 24 Hours of Spa, the highlight of the Blancpain Endurance Series. All in a day's work for a racing driver …
Maxime Martin