MOMO NGT Motorsport Team Friday Notes and Quotes for 12 Hours of Sebring
The MOMO NGT Motorsport Team qualified third in the GTC class with Britain's Sean Edwards driving the No. 30 MOMO Porsche 911 for the 61st Annual 12 Hours of Sebring race, March 16.
Edwards posted a best lap of 2:05.747 at an average speed of 107.329 mph. He and second place qualifier Jeroen Bleekemolen posted the exact time. Since Bleekemolen's lap time was clocked prior to Edwards', Joroen received the second position. Andy Lally collected the pole with a time of 2:05.446
The No. 31 MOMO Porsche 911 driven by Kuba Giermaziak was 10th in his first qualifying effort on the 3.58-mile Sebring track. His best lap was 2:07.057.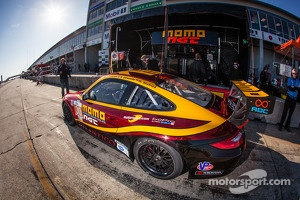 #30 NGT Motorsport Porsche 911 GT3 Cup: Henrique Cisneros, Marco Seefried, Sean Edwards
Sean Edwards, driver No. 30 MOMO NGT Motorsports GTC class:
"I didn't quite hook up the right lap with the tires on the first lap. I thought we might have a tire going down. So I tried again on the second lap. I got unlucky in a traffic situation and made a slight mistake, so I backed off for a couple of laps. I eventually got a clear lap on the next to last lap and managed to go a little faster. The tire was degrading slightly but I'm happy enough from where we started this week. Andy Lally's lap was on it and congratulations to him for the pole. We've really improved over the course of the week because we started quite far behind. We changed (tire) compounds and were going around in circles a bit to find the right setup. At least we're getting it now. I think the race pace will be good and I think it will be a long, tough race but I'm glad we are where we need to be now."
MOMO IMSA GT3 driver, Angel Benitez, Jr., won the Gold class in Race 1 of the IMSA GT3 Challenge presented by Yokohama on Friday.
Angel Benitez, Jr., winner of IMSA GT3 Challenge Cup Race 2:
"The race was very clean but it was a short race because there were two long yellow flags. We had good, new tires for the race. We actually had some luck on the first lap when Madison went wide a little bit in turn 17 and I got the first position. I tried to pull a gap between us so if something happened I would be more secure if something happened during the race. The yellow flag came out and we went out again and held the gap until the end of the race.
#30 NGT Motorsport Porsche 911 GT3 Cup: Henrique Cisneros, Marco Seefried, Sean Edwards
"I think we're very happy…the team, me, our sponsors. We are happy because we did everything we could here this week. We got the pole position, the track record, two fastest laps in the race and two victories. We look strong. I think we are going to be the team to beat this year. We now lead the championship because it is the first race weekend and we won both races."
Alexis van de Poele had his second race in the Cooper Tires Prototype Lites powered by Mazda on Friday and posted his second Top 5 with a fourth place finish.
Alexis can de Poele, driver of MOMO ANSA Motorports IMSA Lites:
"Today I had a better race start than yesterday. The guys in front of me were a little bit faster so I just tried to hold my position. There was a yellow flag so the cars were all back together. I was fourth at the time and in a fight with some guys. At the first restart I got passed by two guys but immediately there was another yellow. On the second restart I retook fourth but I was struggling a little bit with my tires. On the last lap I passed someone for third but he passed me back and that's where I took the checkered flag. It was great experience to come to Sebring to race and I give my thanks to the team and MOMO and I hope I get the opportunity to return."
MOMO NGT Motorsports