Muscle Milk Pickett Racing had another dominating race weekend in Round 6 of the American Le Mans Series at Mid-Ohio Sports Car Course as the team scored its fifth consecutive victory this season.
The team led all on-track sessions throughout the weekend for the second race in a row and scored its second consecutive victory at the Mid-Ohio Sports Car Challenge.
#6 Muscle Milk Pickett Racing HPD ARX-03a Honda: Lucas Luhr, Klaus Graf
German Lucas Luhr, who was starting from pole position, was able to maintain his lead up until he handed off driving duties to Klaus Graf with a little over an hour and a half to go.
The only time the team wasn't atop the charts throughout the weekend was following the team's second stop. Dyson Racing had pitted earlier on with no driver change and gained an advantage in that sequence of stops.
However, Graf quickly retook the lead when Dyson finally pitted for their driver change and final fuel stop, with Graf even putting them a lap down at one point.
Klaus Graf at Mid-Ohio Muscle Milk Pickett Racing continued their dominance over the field and maintained a 53 second advantage after their final pit stop for fuel with about 27 minutes to go.
By the time the checkered flag had fell, Graf was only seconds away from putting a lap on the #16 Dyson car.
While things may have seemed easy from the outside looking in, there was a lot of work involved in this victory as in others. The team had to work through a couple of issues during the race while the drivers had to deal with a tricky racetrack.
However, once again the team's hard work paid off and gave the Greg Pickett-led team a 16-point advantage in the P1 Championship with four races remaining.
The next round of the 2012 ALMS season takes place in two weeks, August 17 - 18, at Road America.
Muscle Milk Quotes
Lucas Luhr
Lucas Luhr, #6 Muscle Milk HPD ARX-03a
"The start worked out great today. As the pole-sitting car you have the right to accelerate first, that's the pleasure of being on pole, so fortunately that went well.
"Afterwards, I was able to pull away a little bit, but the track today was a little tricky. I think with the INDYCAR guys putting a different rubber down it doesn't match really well with ours. So it was difficult throughout the stint and then obviously if you went off line there was a huge amount of pick up. After the safety car there was a lot of gravel and dirt and even carbon fiber parts on the track so that wasn't easy.
"After the restart, I was a little bit worried because Guy (Smith) was right behind me but I was once again able to build and maintain a gap. So for us everything was going to plan. Our Muscle Milk HPD ARX-03a was running fine. We had a little issue with the car when Klaus was in the pits that caught our attention but other than that everything went well.
"Winning five races in a row for Muscle Milk is very special. From the outside it may look easy but the whole team, Klaus and myself, everybody involved, the guys from HPD and Michelin, we all have had to work very hard to achieve all these wins. It's easy to say 'you're wining all the races, it's easy', but a race win is never easy and it is very special to win five in a row. I am very proud of our Muscle Milk Pickett Racing crew."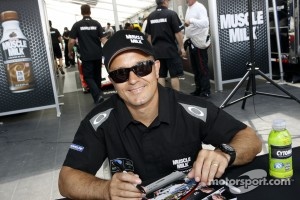 Klaus Graf
KlausGraf2012 Klaus Graf, #6 Muscle Milk HPD ARX-03a
"There was a lot of excitement. Like Lucas said, it may look easy from the outside but there was certainly a lot of excitement for us because of a couple of issues we had. It's these little things that remind us that we need to keep getting better and better, that it's not because we are winning races that everything is perfect.
"It wasn't easy today. One reason is the Indy car rubber, the other is the track that came apart in some spots. I don't know if it was the track itself that was coming apart or because of the rubber, but you had to search for lines today quite a bit, I had to adjust my driving style in some areas.
"To do a good lap time, and we're competitive by nature, we want to get the best performance out of it so we always try to push as hard as we can. It wasn't an easy race and to win five in a row with the car not that easy to drive around here because of track conditions, it's tough. I was once off line on the back straightaway and when you do that, you're in the marbles and there is no grip whatsoever. If you have a small lack of concentration and make an error it can be costly, not just in the race but also in the championship because it's so tight and there is still a lot of races to go.
"We may have won five races in a row, which is great for Muscle Milk Pickett Racing but we still need to remain focused all the times."
Source: Muscle Milk Pickett Racing