CORE set to defend Road America win.
Hot off of a win at Canadian Tire Motorsport Park, CORE autosport arrives at Road America leading the American Le Mans Series Prototype Challenge Team Championship points. In addition, Colin Braun took over the PC Drivers' Championship lead.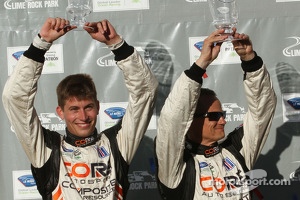 Jonathan Bennett and Colin Braun
There's no other place the team would rather be while leading the points than Road America. Last year, CORE clinched its second-straight PC team championship by finishing one-two at the historic Wisconsin track.
In 2012, CORE's two PC entries crossed the finish line first and second, separated by just 0.423-second.
The No. 05 finished second at Road America last year after starting from the back of the grid. The car missed qualifying because it was damaged in practice.
Bennett will also drive in the IMSA Porsche GT3 Cup Challenge by Yokohama in the No. 54 Porsche 911 GT3 Cup.
Jon Bennett (Driver: No. 05 ORECA FLM09): "I love Road America. Historically, we've done well there. It's a great part of the country, the fans are always fantastic and it's one of the highlights of our season.
"I would give our team an 'A' for the season so far, because there were several events where we've either broken the car, or we've had some distress at a critical time and the team's done a great job getting the car back on track."
Colin Braun (Driver: No. 05 ORECA FLM09): "I'm looking forward to Road America. It's a neat track in the prototype cars because you have a mix of high-speed corners and low-speed corners. It's a nice, long, old-school track with a little bit of everything.
It's just a really fun race track to go to and I'm excited to head there. We had a strong result with a one-two finish there last year in PC with CORE. Jon and I are looking forward to keeping the lead in the championship."
GT team working for next podium
While preparing the No. 06 Porsche 911 GT3 RSR for its fourth GT race start, CORE autosport looks forward to Road America where Porsche finished on the podium last year.
Patrick Long and Tom Kimber-Smith
Road America is the longest circuit the ALMS travels to, 4.048 miles in total with three long straighaways, which makes aerodynamics and braking performance extremely important.
Patrick Long finished on the podium last year in the Flying Lizard Porsche. He has two ALMS wins at Road America.
Tom Kimber-Smith won the PC category last year at Road America with Alex Popow in CORE's No. 06 entry. It was his first ALMS win.
The Road America event is a doubleheader with GRAND-AM. Long will do double duty, racing in the Rolex Series with Park Place Motorsports.
Patrick Long (Driver: No. 06 Porsche 911 GT3 RSR): "I don't really know what to expect at Road America. We've been quick on the straight-line speed and we're good in braking and those are two things you need at Road America.
"We're taking each race, one weekend at a time and focusing on growing as a group. Results are what we all want, but at the same time this is all about growing for the future and I think we're achieving both. We had a great qualifying effort at the first event and then a rough race. At the second race we had a rough qualifying and a strong race. We're looking to put the two together."
Tom Kimber-Smith (Driver: No. 06 Porsche 911 GT3 RSR) "Road America was my first ALMS win. It's a fast, flowing track and very much like European tracks I think. It's over a minute and 20 seconds, which is quite astonishing for an American track. I think the undulations and the fact that it was my first win just bring back good memories.
"GT has been a lot harder than I thought it would be. I think the team has done an incredible job so far and there's still a long way to go, but I'm really looking forward to it."
CORE autosport