Lime Rock Park
Patrick Long Grabs Third Spot Despite Duplicating Pole Performance from 2010
With the Porsche 911 GT3 RSR fielded by Flying Lizard Motorsports, Porsche factory driver Patrick Long (USA) posted the third quickest time in the GT qualifying for the Northeast Grand Prix in Lime Rock. He contests round three of the American Le Mans Series on Saturday with his works driver colleague Joerg Bergmeister (Germany), who, with five wins in the last five years, is the most successful ALMS driver at the Connecticut track.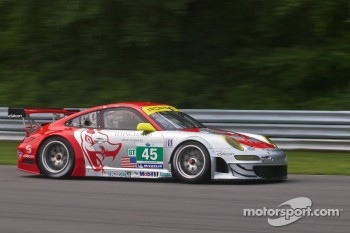 #45 Flying Lizard Motorsports Porsche 911 GT3 RSR: Jorg Bergmeister, Patrick Long
"I was lying in fifth when my pit crew requested me to come in. But my gut feeling told me that I could do better. So I stayed out for another lap and that lap was then perfect," said Patrick Long. "It felt just a good as my fastest lap last year where I secured pole position. It's just that the gap to the cars at the front is simply too big. We just can't match their pace due to the balance of performance regulations."
Long gave his perspective on the session, "We're pleased with the result today. I had come into the pits after setting the third-fastest time of 51.872; we considered going back out but the margin to first and second was enough that on a track this short we knew that we had reached our potential for today. It will definitely be a fight tomorrow. Tirewear is going to be one of the main deciding factors: the cars that manage their tires well will have the advantage. I'm confident we'll have a fast, balanced car for the race tomorrow."
Marco Holzer drove at Lime Rock for the first time today; it is his first run here and only his second ALMS race. (He drove with the Lizards at Sebring in March). Holzer added, "I set my qualifying time on my seventh dry lap ever at this circuit. We are happy with sixth: my time of the gap to Patrick in P3 is just over one-tenth. I'm very happy to be back with the Lizards – the guys did a great job with very little track time in giving us a solid race car for tomorrow."
Heading into the third of nine ALMS races, 2009 and 2010 defending champions Bergmeister and Long are tenth in the drivers' championship; Darren Law (and Grand-Am this weekend) and Neiman are ninth and Holzer is eleventh. Flying Lizard is fourth in the team championship
In the Porsche 911 GT3 RSR fielded by the Falken Tire squad, Bryan Sellers (USA), the teammate of Porsche works driver Wolf Henzler (Germany), claimed the ninth quickest time, while Bryce Miller (USA) put the Paul Miller Racing Porsche 911 GT3 RSR he will share tomorrow with Sascha Maassen in 11th position.
Jaap van Lagen didn't waste time in making himself feel at home in the ALMS GTC class. On his first event weekend in the Series, the Dutch driver took the GT Challenge pole with a lap of 54.982 (96.512 mph) in the Green Hornet Porsche 911 GT3 Cup entry that he will share with Peter LeSaffre. Van Lagen has a varied motorsport CV with top-quality rides in Superleague, World Touring Car and Porsche Supercup.
By: porsche motorsport