Highcroft Racing press release
Highcroft Racing interview with Don Panoz on REAMS and the new DeltaWing project

Key points:
American Le Mans Series founder part of the DeltaWing assault
Provides new lightweight bodywork material
DeltaWing a perfect fit for the American Le Mans Series Green Racing goals
DANBURY, CT, Friday, August 26, 2011: When it comes to international sports car racing, Dr Don Panoz doesn't accept the status quo.
He ressurected sportscar racing in the US with the creation of the American Le Mans Series, his Panoz marque was the only brand to challenge the might of Audi in the early 2000s and now Panoz has joined forces with the Project 56 consortium that will take the new and unique DeltaWing car to the 24 Hours of Le Mans for the first time in 2011.
Making a mold to use for a part made out of REAMS, compared to carbon fiber, is much simpler.

Panoz joins forces with Ben Bowlby and DeltaWing Racing cars, back-to-back American Le Mans Series champions Highcroft Racing and US racing legend Dan Gurney whose All American Racers group will build the initial prototypes.
The DeltaWing will take on the famous French endurance classic with a car that has half the weight, half the aerodynamic drag and half the horsepower of a traditional prototype.
As part of that dramatic weight reduction, the car will utilize a new bodywork material called REAMS - a product developed by Panoz and his Elan Motorsport Technologies company based in Braselton, GA.
Q: WHAT IS REAMS AND HOW CAN IT BE USED IN MOTORSPORT?

A: "REAMS stands for Recyclable, Energy Absorbing, Matrix, System – it is a combination of a known product called "Tegris" and some other films and materials that we use at Elan Motorsport Technologies (EMT).

"Bound together you end up with a very strong bullet-proof material and it is easier to manufacture and much lighter than carbon fiber.

"Additionally, the other benefits include the fact that it doesn't shatter on impact like carbon fiber and it is recyclable. 
 "It takes less energy to produce so there is less impact to the environment as well. It is not a structural material but it will withstand impact. 
 "With a heavy enough impact, carbon fiber will shatter, with other materials you end up with a heavy dent or crease, but with REAMS you can apply some heat from a heat gun or even a hair dryer and you can repair it.

"It really is an ideal material for use as bodywork on racing cars like the DeltaWing. REAMS really has a lot of great properties.
"
Q: HOW EASY IS THE PRODUCT TO PRODUCE?

A: "It needs to be baked in an autoclave like carbon fiber but the amount of energy required to complete the finished product is considerably less. 
 "The lay-up on the materials is very similar to making bodywork out of carbon fiber but the energy used and the amount of time it takes applying heat and pressure in the autoclave is much smaller."
 

Q: HOW DID YOU GET INVOLVED IN THE PRODUCT?
A: "We have been involved in developing the product for a lot of government and military projects to help stop projectiles.

"Our people at EMT saw that by adding other layers of material would not only mask the weave of carbon fiber which can show through under paint, but we found that this really enabled us to stop a projectile and could make the product much lighter.
"The methodology and process of utilizing Tegris and other laminated elements to produce REAMS has been patented by EMT."
Q: WITH THE DELTAWING BEING HALF THE WEIGHT OF A TRADITIONAL RACING CAR, DOES R.E.A.M.S. BECOME THE IDEAL MATERIAL TO PRODUCE THE BODYWORK?

A: "Absolutely – it is like reading from the script. It can be up to 50 per cent lighter. We generally promote a number of 75 per cent but in some of the tests we've done for bodywork, rather than military applications, we can produce a fender that is 50 per cent lighter and you can jump up and down on and not damage it."

Panoz Abruzzi "Spirit of Le Mans" presentation: Don Panoz
Q: HOW DIFFICULT IS IT TO BUILD THE ORIGINAL MOLDS USED TO MANUFACTURE THE BODYWORK?
A: "Making a mold to use for a part made out of REAMS, compared to carbon fiber, is much simpler.

"The material doesn't need the same levels of heat and pressure when placed in the autoclave so the original build of the mold is much faster and considerably cheaper."
Q: HOW EXCITED ARE YOU TO BE INVOLVED IN THE DELTAWING PROJECT?

A: "I think the DeltaWing is a great opportunity and we are very excited to work with Ben Bowlby on the project. We know from our involvement with IndyCar racing that he is an exceptional engineer.

"What is exciting for EMT is the fact that Ben is looking to produce this car with fairly traditional construction methods – now adding REAMS to the project provides even more leeway to be even lighter or move the weight distribution around to exactly where you want it.

"This really could be a great leap forward for the sport. If you can build a car that is lighter and needs less horsepower then that provides significant "green" improvements, which is what the American Le Mans Series is all about.

"When you throw REAMS in the mix it makes things even better – particularly for the tracks. One of the biggest problems you have with on-track impacts is the pieces of shattered carbon fiber littering the track and causing tire punctures.

"This doesn't happen with REAMS."
Q: HOW GREAT A FIT IS THE DELTAWING AND THE AMERICAN LE MANS SERIES WHEN IT COMES TO HIGHLIGHTING GREEN RACING?
A: "When you look at what we try to achieve in the ALMS with alternative fuels and other methods to maintain performance using less energy, certainly this car does that even if it is using a conventional gasoline engine.

"You only need half the horsepower and subsequently half the fuel so in that sense it is certainly far more energy efficient.

"When you add the components which are less expensive – bodywork, smaller more cost-effective engines – it really is a great mix for green racing."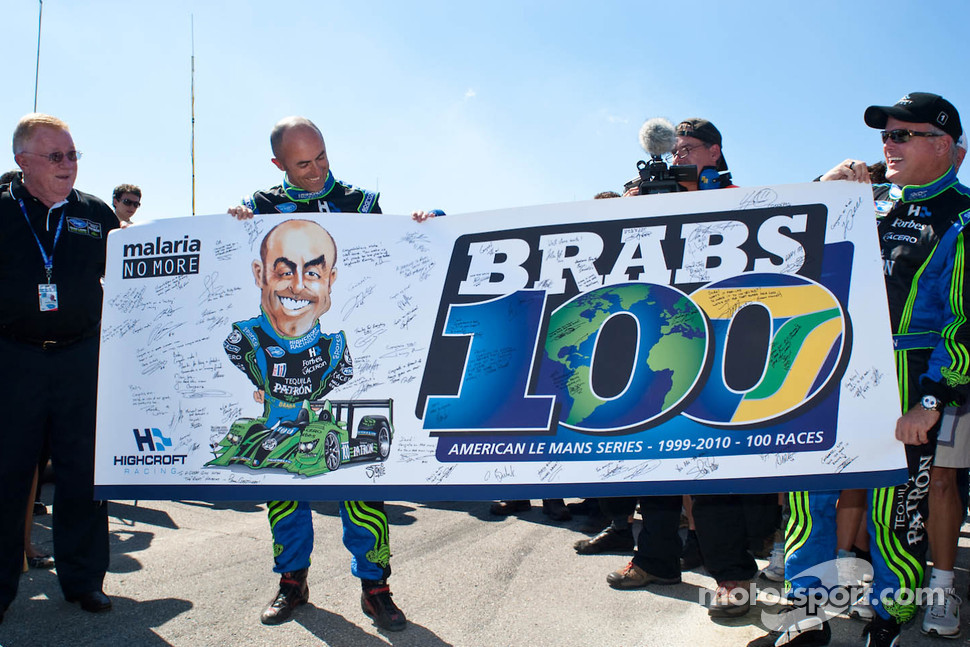 David Brabham, Duncan Dayton and Don Panoz honoring Brabs 100th ALMS start, 2010