Barrichello, Kanaan, Tracy join entries for final testing sessions.
DAYTONA BEACH, Fla. – With teams preparing for the "dress rehearsal" for the 51st Rolex 24 At Daytona, open-wheel stars Rubens Barrichello, Tony Kanaan and Paul Tracy lead the list of late additions for this weekend's Roar Before the Rolex 24, the final three-day test before the 2013 GRAND-AM Rolex Sports Car Series opening event.
The Roar Before the Rolex 24 is a three-day test from Friday through Sunday at Daytona International Speedway. Expected to participate are 57 Rolex Series cars – including 17 Daytona Prototypes – and 55 entries from the Continental Tire Sports Car Challenge.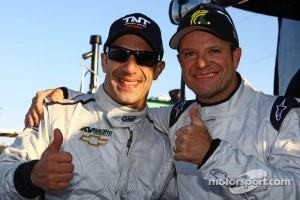 Tony Kanaan and Rubens Barrichello, KV Racing Technology
Barrichello and Kanaan are part of a two-car GT entry filed by Dener Motorsport, and will co-drive the team's No. 21 Challenge Brazil Porsche GT3. Tracy will co-drive the No. 77 Doran Racing Ford/Dallara with Dr. Jim Lowe, Colin Braun and Jon Bennett at the Roar, with the team upgrading to a third-generation DP for the Rolex 24.
Barrichello was an 11-time winner in a Formula One career that spanned 19 seasons from 1993 through 2011. He competed for KV Racing Technology in 2012 IZOD IndyCar competition as a teammate to fellow Brazilian Tony Kanaan.
Kanaan was the 2004 IndyCar champion, winning 14 races since joining the series in 2002. He also raced in CART for five seasons. He finished 11th overall and third in GT1 in the 1998 Rolex 24 for Tom Gloy Racing.
Tracy, the 2003 Champ Car titlist with 30 victories in major open-wheel competition, is an 11-time competitor in the Rolex Series, with his best finish in four Rolex 24 appearances seventh in 2012 for Doran Racing.
Other teams, including Wayne Taylor Racing, Michael Shank Racing and Napleton Racing, are expected to announce their lineups during the Roar weekend.
Grand-Am Road Racing