Mazda MX-5 Cup champion Stevan McAleer joins CJ Wilson Racing in one of the team's two ModSpace Mazda cars for the 2013 Grand-Am Continental Tire Sports Car Challenge.
CHARLOTTE, NC – As the green flag drops on the 2013 Grand American Road Racing season at Daytona International Speedway this weekend, with the ROAR Before the 24 Test Days, the ModSpace Construct Corps Mazda MX-5 Miata driven by Stevan McAleer will be sporting the ModSpace and Construct Corps colors.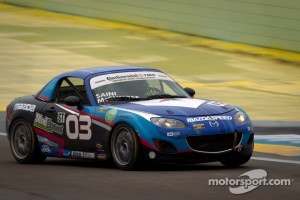 CJ Wilson Racing Mazda MX-5
Thanks to his 2012 championship in the Mazda MX-5 Cup, the CJ Wilson Racing ST (Street Tuner) entry driven by 2012 Mazda MX-5 Cup Champion McAleer will be showcasing Mazda's continued partnership with ModSpace - the leading provider of modular buildings, portable storage and services for temporary or permanent space needs and Construct Corps. - a leading provider of temporary skilled workers for construction, disaster response, environment and manufacturing companies throughout the US.
The team, owned by Major League baseball player CJ Wilson, will campaign two cars for the full Grand Am Continental Tire Championship season. McAleer will be driving with Marc Miller.
"We look forward to working with Mazda and CJ Wilson Racing on many levels again in 2013, in both Grand Am and in the 2013 Mazda MX-5 Cup series, to help them expand their business and entertain their clients and partners.
With CJ's success in baseball, we hope to blend our racing program and promote cross over between our fan bases. We're in this sport for the long haul, and look forward to providing experiences for our partners that sets up long term relationships.
We sincerely hope that this is the first of many great years working together with ModSpace and their partners," commented William Mann, Vice-President of Business Development, for ModSpace.
CJ Wilson Racing