Earnhardt Ganassi Racing with Felix Sabates development driver will pilot the No. 32 Turner Scott Motorsports Chevrolet Camaro in the Nationwide Series.
MOORESVILLE, N.C. - Turner Scott Motorsports (TSM), in conjunction with Earnhardt Ganassi Racing with Felix Sabates (EGR), announced today that Kyle Larson, 2012 NASCAR K&N Pro Series East (NKNPSE) Champion, will look to run a full-time NASCAR Nationwide Series (NNS) schedule in 2013. Larson, the 20-year-old driver from Elk Grove, Calif., will attempt to make his series debut behind the wheel of the No. 32 Clorox Chevrolet Camaro fielded by TSM during Daytona Speedweeks in the DRIVE4COPD 300 NNS race on February 23.
Eventual winner, Kyle Larson
Larson will have a racing-packed week leading up to his Daytona International Speedway debut. Before making an attempt to run in the NNS race, Larson will first compete in the ARCA Racing Series Lucas Oil 200 at the 2.5-mile superspeedway on Saturday, February 16, in the No. 4 Chevrolet Impala for TSM. The young wheelman will also step behind three separate racing machines for the UNOH Battle at the Beach, held on a temporary 0.4-mile short track on Daytona's backstretch. The two-day show will feature three non-points special events from the NASCAR K&N Pro Series, the NASCAR Whelen Modified Tours and the Late Model division of the NASCAR Whelen All- American Series, with Larson piloting an entry in all three divisions.
"Daytona is going to be really busy for me, but I'm ready to get back in the seat," Larson said. "I'm really thankful to Earnhardt Ganassi Racing for allowing me the opportunity to drive for Turner Scott Motorsports this season in the No. 32 Chevy Camaro. I know this is a great team to be a part of, and I'm really looking forward to making the next step in my stock car racing career. Turner Scott is one of the strongest Nationwide Series teams out there, and I know they'll give me the chance to prove myself. I had a lot of fun with this team in just a few truck series starts last year and I know we can continue that success in the Nationwide Series."
Larson did not disappoint in those four NASCAR Camping World Truck Series starts for Turner Scott Motorsports in 2012, racking up three top-10 finishes, including a runner-up effort, while leading an impressive 91 laps. With that momentum on his side, along with his natural talents, Co-owner Harry Scott Jr. is optimistic about the potential for this season.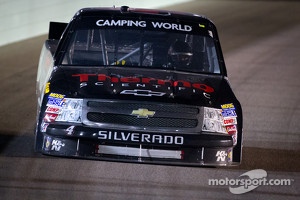 Kyle Larson, Earnhardt Ganassi Racing Chevrolet
"Kyle has already proven in a very short amount of time that he is a very talented driver, and we're very excited to have him on board at Turner Scott Motorsports," Scott said. "He did a fantastic job in the NASCAR Camping World Truck Series events he drove for us last season, so we are thrilled to be a part of the next step in his career and to see his talent develop while at the wheel of the No. 32 Chevrolet Camaro this season."
The No. 32 team will be led by crew chief Trent Owens, who is entering his seventh full season as a crew chief in the NASCAR Nationwide Series. Owens brings a wealth of knowledge and success, working with a variety of drivers each at different stages in their respective careers. He called the shots for Mark Martin in 2011 at Las Vegas Motor Speedway and collected Turner Scott Motorsports' first NNS victory. Most recently, Owens guided NASCAR Camping World Truck Series Champion James Buescher and driver Nelson Piquet Jr. to their respective first career NNS victories in 2012.
"I'm really looking forward to this season and working with Kyle," Owens explained. "There's no question he's one of the best up-and-coming talents in the sport, and this whole team is excited to see him get behind the wheel of our No. 32 Camaro. I've worked with a lot of different types of drivers, but this opportunity is something I'm especially thrilled about."
Turner Motorsports