HUNTERSVILLE, N.C. – Despite not being a participant in this year's Chase for the NASCAR Sprint Cup Championship, Kyle Busch and his Joe Gibbs Racing (JGR) team have shown, without a doubt, that they belong with the sport's elite.
The driver of the No. 18 SNICKERS Peanut Butter Squared Toyota Camry for JGR has collected four top-five and five top-10 finishes in the seven races contested in this year's 10-race Chase.
In addition to the solid finishes, Busch has led a total of 356 laps, accumulated a driver rating of 103.4 and has an average finish of 11.4.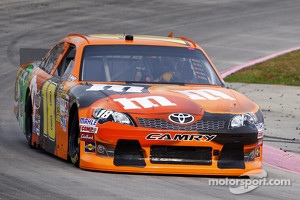 Kyle Busch, Joe Gibbs Racing Toyota
Even though it was a bitter pill to swallow when the No. 18 team narrowly missed the Chase field, Busch, crew chief Dave Rogers and the entire No. 18 team have shown they were hardly ready to throw in the towel on winning in 2012.
After starting the Chase with a solid fourth-place effort at Chicagoland Speedway in Joliet, Ill., Busch ran second the following week at New Hampshire Motor Speedway in Loudon before engine issues sidetracked another potential top-five finish. The following week, Busch dominated the third Chase race at Dover (Del.) International Speedway, leading a race-high 302 laps.
But, just as their season has gone, the caution flags did not fall their way and he was forced to pit for fuel with less than 10 laps to go, resulting in a seventh-place finish.
Again, the tough result from Dover didn't get Busch & Company down as they recorded back-to-back top-five finishes of third and fifth, respectively, at Talladega (Ala.) Superspeedway and Charlotte (N.C.) Motor Speedway.
The following week at Kansas Speedway in Kansas City, Busch spun early but rallied to run within the top-10 with 80 laps to go when contact from Ryan Newman sent him into the outside SAFER Barrier and to the garage.
The disappointment at Kansas didn't rattle the No. 18 team, however, as last weekend at Martinsville (Va.) Speedway Busch rallied from a cut tire that resulted in an early race spin and finished in the runner-up spot just behind five-time champion and current points leader Jimmie Johnson.
So while he isn't a Chase participant, Busch and his team have shown they belong by running up front and being part of the conversation each Chase race thus far.
Next up for Busch is Texas Motor Speedway in Fort Worth, where he will shoot for a long-overdue win during Sunday's AAA Texas 500 with his SNICKERS Peanut Butter Squared Camry.
Even though Busch has not been able to score a Sprint Cup victory at Texas, he knows his way to victory lane at the 1.5-mile oval, having reeled off an incredible string of five consecutive NASCAR Nationwide Series wins there from April 2008 to April 2010.
Busch and his SNICKERS Peanut Butter Squared team head to the Lone Star State this weekend looking to continue chasing the Chase competitors and shooting for his first Sprint Cup win there in the process.
Earning the signature cowboy hat and six-shooters as a Texas race winner just might be on the horizon if the last seven races are an accurate indication.
KYLE BUSCH, Driver of the No. 18 SNICKERS Peanut Butter Squared Toyota Camry for Joe Gibbs Racing:
How have you and the team approached the final 10 races this year even though you aren't in the Chase? "It was obviously a huge disappointment not to be in the Chase, but we took the attitude that we were going to race the final 10 races like we were in the Chase and see how we end up.
So far, we've been able to show how good this team really is. We had engine issues at New Hampshire and a wreck at Kansas, both sort of out of our control, but we've been really good each race and have shown what we can do.
This team hasn't given up and we had the disappointment of things not working out our way and not winning at Dover, and we would really like to get a win under our belt in one of these last three races.
We've shown we're capable of winning and bringing home solid finishes."
Are you getting more comfortable at Texas each time you go back? "It used to not be so much. I had some wild races there early on in my career and it wasn't one of my favorite places, for whatever reason. Things have gone well, recently.
Obviously, the Nationwide Series wins I had there all in a row and getting the win in the Truck Series the last couple of years have been real confidence-boosters there.
I've sort of learned how to drive it a little bit better and I know what I need in my racecar to make it easier. The cars JGR has given me since I joined the team have also been a confidence-booster there.
I can't seem to get that win in Cup that's eluded me, even though we've been close. So, hopefully, that's something we can change this weekend with our SNICKERS Peanut Butter Squared Camry."
How fast of a racetrack is Texas Motor Speedway? "It's a fast racetrack. Texas was really hard for me at the beginning with the Cup cars for some reason. I took to it right off the bat in the Nationwide stuff.
We've kind of correlated some of that information back and forth and, having the cars from Jason Ratcliff (former Nationwide Series crew chief and current crew chief of the No. 20 Sprint Cup team for JGR) and from Dave Rogers (Busch's Sprint Cup crew chief) being as good as they've been, we've been really fast there.
And now that Jason is on the Cup side with Joey (Logano), I'm hoping they can bring back a little of that magic that helped us win five in a row there in the Nationwide car. It's a fun place.
It's really challenging because of the flatness of the corners, getting into the corners, and then they're so banked through the turns and then the exits of the corners, they kind of fall off really quickly.
That was always really weird for me to try to figure out because the lateral grip seems to go away so fast on the exit of the turns. You kind of want to be straight by that point. It's an interesting facility.
Texas, Charlotte and Atlanta all might look exactly the same, but they drive nothing alike. It keeps you on your toes."
How difficult is a season like this? "It's tough. It's certainly very frustrating and a little bit demoralizing, too, when you have a year like this. Sometimes, I've seen guys have these types of years and I'm just like, 'Man.'
You see it from the outside and it's like, 'Man, what are they doing? It's got to hurt.' Now, we're in that situation and certainly it's not something you want to have to deal with.
We've struggled a little bit this year with getting finishes we feel like we've deserved, or where we've been running to where we've finished aren't mirroring each other.
For example, at Loudon we were a second-place car and we finished 28th with it. Certainly, very disappointing when we've had those days, as well as some other days we've had.
At the same time, I'm very proud of all the guys on this team for what we've done over the last seven races. It just shows we are one of the best cars out there when things fall our way.
I just chalk it up to bad luck, and we'll try to win one before the year is out and get some momentum for next season and hope to put some of our bad fortunes behind us."
Source: Joe Gibbs Racing