Camry driver Kyle Busch (second) was the first Toyota driver to the finish line in Sunday's NASCAR Sprint Cup Series (NSCS) race at Virginia's Martinsville Speedway.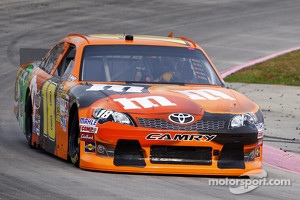 Kyle Busch, Joe Gibbs Racing Toyota
Toyota 'Chase for the Sprint Cup' driver Clint Bowyer (fifth) recorded a top-five finish on the half-mile speedway and led 151 laps (of 500) during the race. Other Camry Chase drivers Martin Truex Jr. (23rd) and Denny Hamlin (33rd) experienced issues in today's race.
KYLE BUSCH, No. 18 M&M's Halloween Toyota Camry, Joe Gibbs Racing Finishing Position: 2nd
What happened on the final laps racing for the win against Jimmie Johnson? "He (Jimmie Johnson) was really, really slow in (turns) one and two and I should've done it there, but he protected himself and got me backed up enough where it gave him enough room off of turn two and through three and four. Just really, really disappointing for us. We had an angel riding with us today -- Raine Angelley. I just want to say hi to his grandmother and his father back home. He was a kid who had a lot of liver and kidney issues and he was looking for some help and Samantha (Busch, wife) and I brought him under our wing and he worked at KBM (Kyle Busch Motorsports) for a while. We had some fun and had some relationship there and he passed away this week. Thoughts and prayers go to him and his family."
What happened on the final restart? "I spun my tires really bad. Just couldn't keep up with them for the first couple laps and then I got to his back bumper there in (turns) one and two and he protected it enough and backed me up enough that he got a good launch off of turn two and away from me too far. I couldn't get back to him in three and four to make a run for it. The M&M's guys did a great job -- just didn't quite have enough all day. I thought we were going to be about a fourth-place car so considering we ran second -- that's closer. Wish we had a little more to contend and get the lead and win this thing."
CLINT BOWYER, No. 15 5-hour ENERGY Benefitting Avon Foundation Toyota Camry, Michael Waltrip Racing Finishing Position: 5th
What happened with Jeff Gordon toward the end of the race? "The 24 (Jeff Gordon) at the end, I mean, I didn't want to. I was door-to-door with him and he just turned left to block me and I was already there. I hit the brakes and wheel-hopped, I hit him so hard and tried to stay off of him. It was a bad deal right there. You can see I was there and he just kept turning left on me and I was like, 'Hey, you better not do that.' It is what it is. It was a good day for us. Man, I thought we had a car capable of winning. As soon as it got cool I got a little bit tight, but we lost track position when they beat us out of the pits there and I never could regain it."
How did your car handle in the race? "As soon as we got crowded up I got way too tight. I kept losing everything I could gain -- everything I would gain on the track I would lose on pit road. It is what it is -- it's a team effort and it's the team that got us here. We win or lose together. That 2 (Brad Keselowski) -- it's unbelievable, they just keep doing what they're doing and we can't seem to run them down any. It was a good day for us. It was a lot of fun out there -- we led laps and did what we wanted to do. Just came up short from winning the race."
BRIAN VICKERS, No. 55 MyClassicGarage.com Toyota Camry, Michael Waltrip Racing Finishing Position: 8th
How was your race? "My race was good -- not as good as we wanted. I think when you come into a day with a car you think can win and you don't win with it you're always frustrated no matter how well you do. It was another top-10 -- we've had a lot of those this year, which is great. Should have been another top-five and maybe even a win so you can't complain about that. The guys did an amazing job with the car all weekend. I can't thank everyone at MWR (Michael Waltrip Racing) enough. It was a short year, but we made the most of it. We had a lot of top-10s and a lot of top-fives in only eight races. We got to the front today -- we were tight, we got the car better. We lost track position in the pits a little bit, but we battled back. Then at the end it was just bad luck. We kept getting stuck in the outside lane the last three or four restarts and it was just tough. It was tough to make gains when you're on the outside. You just hope to maintain and then make your gains on the inside and we just never got that shot at the inside."
DENNY HAMLIN, No. 11 FedEx Express Toyota Camry, Joe Gibbs Racing Finishing Position: 33rd
How was your race? "It ended in disappointment, but we overcame the pit road penalties and things like that and just had a great car. Just when these things happen you've just got to suck it up and move on. There's nothing I could do about it. So, one of these days it's going to be our time, it's just not going to be right now."
What happened with the speeding penalties on pit road? "I was doing what the crew chief said. I don't know if that's the right thing as far as NASCAR is concerned, but they assured me that there was no way the speed on entry with the timing lines and so I think that there was a little bit of an underestimation of how quick these cars can launch when you do take off. I think that there was something more to that than what we thought. Nothing we couldn't overcome. We still drove our tails right back up to the front twice and passed the 48 (Jimmie Johnson) about four times. It just sucks it's got to end this way, but we've just got to suck it up and move on."
What are you feeling? "Just disappointment. Just to have to go through a day like that and it end like this is tough, especially on our best race track. Going through the adversity of speeding twice and still driving back to the front -- it's frustrating. What can you do? We broke a bolt on a master switch and it ended our Chase chances. We'll try to turn the table and get a lot of wins. Definitely disappointing as far as that's concerned."
What were you thinking while sitting in the car waiting on repairs? "Just the little things that get us. I've been in these Chases for seven years and I've had my fair share of electrical issues and motor issues and things like that. All I can do is just drive my heart out and if it's not meant to be, it's not meant to be. We'll have our time, it's just our time is not now."
Did you think it was a fluke the first time the car shut off? "I was hoping that possibly when I down shifted coming down pit road that I somehow cycled the ECU and I thought that maybe that was the problem so I shut it off and tried to get that working again with no luck. It's just something that we couldn't control."
How will you approach the final three races? "Just have fun -- that's all I can do. Just go out there and be relaxed and enjoy this championship battle that's shaping up. It's a shame we can't be a part of it, but we're going to try to work our way as far up in the points as we possibly can and just keep digging."
Source: Toyota Motorsports