With Hurricane Sandy lurking in the background, Jimmie Johnson served up a storm of his own, racing to victory in the Tums Fast Relief 400 at the Martinsville Speedway on Sunday afternoon. Taking the lead with 100 laps to go, Johnson survived a series of yellow flags and a swarm of fierce competitors to score his seventh victory at the famed short track.
Starting from the pole in the Lowe's Chevrolet, Johnson led 193 of the 500 laps.
We executed well on all fronts and we will have a dog fight for these final three (races).
In winning for the fourth time in 2012, Johnson took over the point lead in the Chase for the NASCAR Sprint Cup championship, coming away with a narrow two-point advantage over former leader Brad Keselowski, who finished sixth after starting 32nd.
Clint Bowyer moved into third 26 behind with Kasey Kahne gaining fourth place 29 back.
Hard-luck driver Denny Hamlin lost two positions and dropped to fifth place with three races to go in the long season. Two pit-road speeding penalties didn't deter the hard-charger but a short in the master switch sent him to the garage, and he lost 27 laps while repairs were being made.
He ended up 33rd in the final tally, derailing his hopes for the 2012 championship.
"It was a great day for this Lowe's Chevrolet team," Johnson said after giving the Hendrick Motorsports team its 207th victory. "To get seven of these (grandfather) clocks, I am very proud of that. It was a team effort, and I had a fast racecar. Pit road (service) was fantastic all-day long. It was a great team effort. I didn't want to see that last caution as we all got bunched up. It was a little exciting at the end, but I managed to get this car to victory lane at the right time of the year."
He went on to say, "We had awesome pit stops, and the last one gave me the lead. To be on inside lane (for restarts) was huge. The weather conditions were changing as the clouds came in. The racetrack changed a lot, and it came my way. It looked like it hurt the No. 15 (Bowyer) and a couple of other guys. It was nice to have Mother Nature help me at the end and help my car out. We executed well on all fronts and we will have a dog fight for these final three (races)."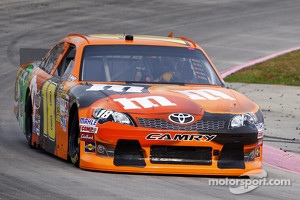 Kyle Busch, Joe Gibbs Racing Toyota
Added crew chief Chad Knaus, "It wasn't an easy weekend by any stretch. We had to work really hard and Jimmie (Johnson) did an amazing job in qualifying, to give us that first pit box. We worked hard on the car today, and we made some significant changes to it. My crew didn't falter and I feel like they are the best crew on the circuit now. The true testament to Jimmie is the way he can go out there and manage the race. His experience came into play today, maybe more so than what we have seen in the Chase so far."
The five-time Sprint Cup champion chalked up his 59th career victory and the win seems to prove that he is on track for yet another championship. He also won for the seventh time at Martinsville, tying Rusty Wallace and Jeff Gordon for third place.
In winning, Johnson's victory clinched the manufacturers' championship for Chevrolet for the 10th consecutive year and the 36th time overall.
Finishing a close second was Kyle Busch in the M&M's Halloween Chevrolet. Said the runner-up driver, "It was really, really disappointing for us. I felt like I could run with the leaders on the first few laps and then I would kind of fall back. I was trying to save my equipment for the end, hoping to pressure them at the end."
On the last lap, Busch made a determined run that came up .479 seconds short. Addressing the final circuit, Busch stated, "Jimmie (Johnson) did a good job. He's a five-time champion for a good reason. I got up to his bumper but didn't want to move him out of the way. He really slowed the corner down and protected the bottom well. When I went back on the gas, I spun my tires and he just squirted away from. He manipulated my car the way he needed to do, to protect himself for the last corner."
Kasey Kahne, Hendrick Motorsports Chevrolet
Kahne finished a close third in the Hendrickcars.com Chevrolet.
"We started off 15th and were able to slowly move up," Kahne said. "Jimmie (Johnson) and the No. 48 guys pulled it off. I fell back to eighth on the second to last restart and after making some good adjustments, we got back in there and had some good restarts at the end. I was lucky to be start on the outside (near end) and passed a few cars, to end up third. It felt good to run well at Martinsville, as it has been a tough track for me."
Fourth was Aric Almirola in the Gwaltney Ford.
"That was a good run for us," Almirola said. "Todd Parrott made a gutsy call at the end. We were horrible at the beginning of this race and I mean horrible. I don't know how we didn't go several laps down, but we fought hard all day."
Bowyer, who led 151 laps, took fifth place in the 5-hrEnergy/BenefittingAvon Foundation for Women Toyota.
Sixth through 10th were Keselowski, Gordon, Brian Vickers, Bobby Labonte and Greg Biffle.
Eleven caution flags slowed the race for 64 of the 400 laps with four of them coming in the final 107 laps.
The last slowdown took place eight laps from the end when comeback driver Dale Earnhardt Jr. and Carl Edwards tangled.
Earnhardt, who ran in the top-10 much of the way, ended up 21st.
The Sprint Cup Series travels to the Texas Motor Speedway next weekend for the AAA Texas 500.